Gridwall and Grid Mesh Panels
Build an effective display wall with Gridwall and Grid Mesh Panels
What is gridwall mesh used for?
Gridwall is a versatile and efficient system that helps save store wall and floor space, allowing you to hang products from rails or place them on configurable gridwall arms, rails and shelves. At UK POS, we stock gridwall panels, hooks, shelves and accessories, allowing you to completely customise your retail display to suit your business needs.
Where should I use grid mesh panels?
This merchandising display solution is ideal for any retail or store environment, however it can also be used at exhibitions or trade shows.
The gridwall panels are available either with sturdy legs for a freestanding display, or on a base with wheels, making the unit easily mobile. For wall fixing, our Gridwall Wall Mounting Bracket can be screwed into a wall and hooked into the gridwall, providing reliable support.
What gridwall accessories are available?
At UK POS, we stock a wide variety of hooks, shelves and accessories that are compatible with gridwall mesh panels. These allow you to completely customise your retail display to suit your business needs. From single prong hooks for hanging individual smaller items, to arm rails and hat arms, we are bound to stock gridwall accessories to suit your unique product ranges.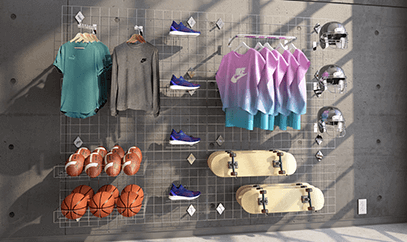 Gridwall buying guide
Gridwall is a wonderfully versatile merchandising aid that can be configured as a free standing unit or wall mounted to create an effective main wall.
Our Gridwall Buying Guide will help you to choose which gridwall products would be best for your retail space.
Do you stock ready-to-use grid mesh kits?
Yes, we supply a wide selection of gridwall kits for wall mounting or freestanding, available on flat or wheeled bases for your choice of static or moveable display. Our gridwall display kits are available either with or without merchandising hooks and other gridwall accessories such as shelves and garment rails for maximum user convenience and personalisation.