Shelf talkers buying guide
Go into any supermarket or large retail store and you'll find shelf talkers attached to their shelves.
Shelf talkers, or shelf barkers as they're also known, are simply clear PVC plastic pockets which hold price labels and other information on products and slot into shelf edge data strips.
Shelf talkers come in all shapes and sizes to fit all shelves and data strips, as well as different sizes and designs to help you draw attention to products without impeding access to the items on the shelves.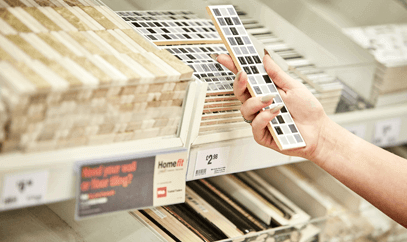 Shelf talkers are used by retailers for shelf edge displays.
How to use shelf talkers
What is a shelf talker?
Shelf talkers are clear plastic shelf fittings which fix to the front edge of retail shelving units and hold labels, tickets, small signs and information sheets. They're usually made from clear PVC plastic and are commonly used in shops such as supermarkets where you'll have seen them used to promote specific products on an aisle of shelving. Shelf talkers can hold price tickets, draw attention to products you're promoting or be used to provide additional information to help your customers make the right purchase.
They're a really inexpensive way to add clearer pricing and promotional messaging to customers. They make it much easier for them to spot the products they're looking for and the ones that offer best value, which helps increase your average order value. They're probably the most widely used point of sale product there is.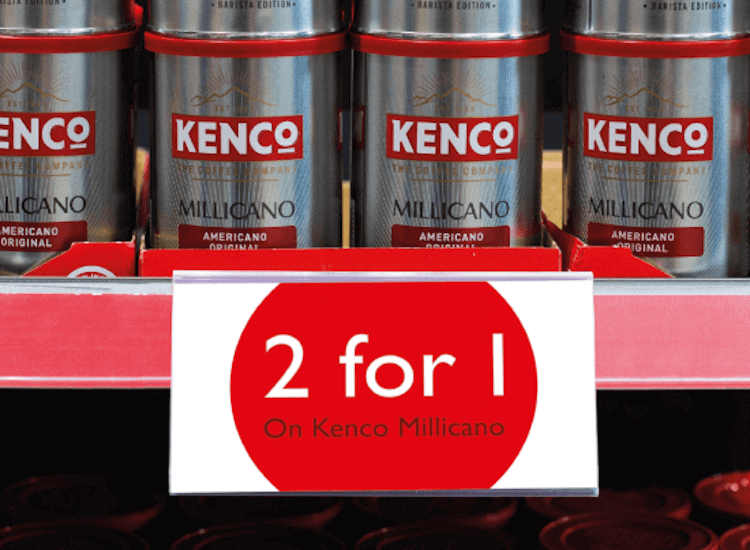 What's a shelf barker, then?
Effectively, shelf barkers and shelf talkers are the same thing. However, shelf talker is the most commonly used name for them.
Since shelf talkers occupy quite a large area on the shelf edge in order to better promote products, they can sometimes be knocked by customers removing products from the shelf to place in their basket. This could cause the shelf talker to be dislodged, so the more sophisticated models often feature additional bends to make them more springy or a hinge so they drop back into position if pushed out of the way.
What are the benefits of different shelf talker designs?
Besides the type of shelves they're designed for, the other ways in which shelf talkers differ is in their size, the position of the label holder on the front of the shelf edge and the angle at which it's pointing.
Much of it is down to the personal preference of the person who handles merchandising, but smaller shelf talkers are best suited to price labels, while bigger ones are better for promotions and providing additional technical information on products.
The height of your shelf also makes a difference to the style of shelf talker you should be using. It's harder to read shelf talkers that lie flat against the shelf front on low lying shelves, so pick an angled shelf talker instead. This will point the message towards your customers so they can see it more clearly.
Similarly, on high shelves you should be using flat front shelf talkers rather than those which angle the label upwards.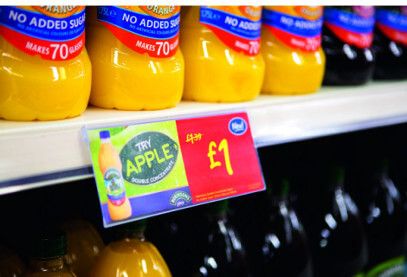 Most shelf talkers attach to the shelf edge strip fixing, but others can stick or hang on to the shelf unit, so they're very versatile.
How do I attach a shelf talker to my shelves?
Although they are sold in two common sizes (6" x 3" and 8" x 3"), there are many different styles of shelf talker which have been designed to be compatible with virtually all retail shelving units. Some shelf talkers slot into or clip onto the shelf edge data strip (such as our DBR, GLS or ANT data strips) found on many retail shelves (also called a scanning rail or ticket rail), while others hook on a lip on the front of the shelves or can be stuck in place using adhesive tape. Whatever type of shelving you have, we'll stock a shelf talker to fit it.
Choosing the right shelf talker
Do you offer bulk discounts on shelf talkers?
Yes, not only are our prices extremely competitive, we also offer larger discounts when you purchase in larger volumes.
Can you manufacture bespoke shelf talkers?
Yes, we're happy to discuss bespoke orders and produce custom shelf talkers for a number of larger retailers. Contact us for more information.
| Product | Fitting | Size | Alignment | Material | Front |
| --- | --- | --- | --- | --- | --- |
| PB563 | Datastrip | 6" x 3" | Central | PVC | Flat |
| PB583 | Datastrip | 8" x 3" | Central | PVC | Flat |
| PBSOUTH | Datastrip | 150mm x 98mm | Central | PVC | Flat |
| PB1A63 | Datastrip | 6" x 3" | Central | PVC | Flat |
| PB1A83 | Datastrip | 8" x 3" | Central | PVC | Flat |
| PB463 | Datastrip | 6" x 3" | Flush top edge | PVC | Flat |
| PB483 | Datastrip | 8" x 3" | Flush top edge | PVC | Flat |
| PB843 | Datastrip | 4" x 3" | Flush top edge | Extruded plastic | Hinged |
| PB863 | Datastrip | 6" x 3" | Flush top edge | Extruded plastic | Hinged |
| PB883 | Datastrip | 8" x 3" | Flush top edge | Extruded plastic | Hinged |
| PB1463 | Datastrip / Clip-on | 6" x 3" | Central | Extruded plastic | Flat |
| PB1483 | Datastrip / Clip-on | 8" x 3" | Central | Extruded plastic | Flat |
| PB663 | Adhesive fitting | 6" x 3" | Flush top edge | PVC | Flat |
| PB683 | Adhesive fitting | 8" x 3" | Flush top edge | PVC | Flat |
| PB763 | Adhesive fitting | 6" x 3" | Flush top edge | PVC | Angled |
| PB783 | Adhesive fitting | 8" x 3" | Flush top edge | PVC | Angled |
| PB1263 | Hang on glass/wire edge | 6" x 3" | Flush top edge | PVC | Flat |
| PB1283 | Hang on glass/wire edge | 8" x 3" | Flush top edge | PVC | Flat |
| TH1 | Datastrip / Clip-on | 10cm x 7.8cm | Flush top edge | PVC | Flat |
| TH2 | Datastrip / Clip-on | 10cm x 7.8cm | Flush top edge | PVC | Flat |
| TH3 | Datastrip / Clip-on | 10cm x 7.8cm | Flush top edge | PVC | Flat |
| TH4 | Datastrip / Clip-on | 10cm x 7.8cm | Flush top edge | PVC | Flat |