Sneeze Screens and Sneeze Guards
Sneeze screens and sneeze guards
Whatever industry you work in, sneeze guards and cough screens are now considered essential equipment, particularly if you work with the public or in busy offices. That's why we have expanded our range of cough screens and desk dividers to ensure our customers are able to protect themselves and their businesses.
For a comprehensive workplace hygiene strategy, take a look at our hygiene and social distancing products. These complement items such as the transparent cough screens and desk dividers, ensuring staff and customers remain safer and more aware of infection prevention practices.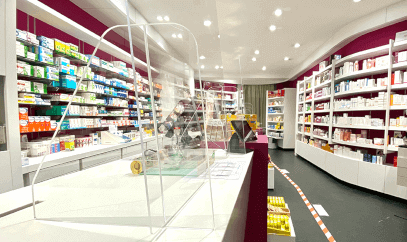 Hygiene screens are a quick and easy way to create a protective barrier between staff and customers.
What type of sneeze guards do I need?
The type of hygiene screens you need may depend on your business type and budget. We stock a wide variety of hygiene screens, from flat-packed, freestanding portable sneeze guards, to more heavy duty premium options which can be screwed into surfaces. Cough screens aren't just for use on desks either. For staff members who need to stand in public areas, and for other busy locations such as in queues, we also have floorstanding hygiene screens with steel frames. This means that they are sturdy enough to remain in place without being screwed down, but remain repositionable when required.
What type of checkout sneeze screens are available?
We stock a number of different options of sneeze guards for retail environments in a range of sizes, shapes and materials, from narrow acrylic sneeze guards to larger screens with premium quality metal frames. We have some pop-up style freestanding options which are great for repositioning, whereas other types of Perspex safety screens can be adhered or screwed in place.
Do you sell cheap sneeze screens for events?
One low cost solution is to use transparent roller banners wherever you need to place a hygiene barrier. Supplied in a handy carry bag, these are ideal for use at events and for mobile businesses as they can be erected or packed away in an instant.
Can desk dividers be used as sneeze guards?
Desk dividers and desk privacy screens have always been useful for sectioning off areas of the workplace in order to give coworkers some private space in open plan offices. Now, in a post-pandemic workplace, we know that desk privacy screens are also ideal for helping to prevent workers from spreading infections between each other. We supply these in a variety of styles, including clear acrylic desk dividers which allow light to pass through.
Why use Sneeze Screens and Sneeze Guards?
Checkout sneeze screens are an important consideration for retail and hospitality businesses, as interaction with the public leaves staff more vulnerable to catching viruses.
Cough screens and sneeze guards not only protect your staff and customers, but also make them feel more at ease.
Most acrylic sneeze guards and checkout sneeze screens feature a gap for use as either cable access or payment area.
Clear acrylic sneeze guards provide protection while allowing light to pass through as normal.
Office sneeze screens can help to prevent the spread of infections between workers caused by coughs and sneezes.
Desk privacy screens serve a dual purpose, enhancing privacy in shared office spaces while providing a hygienic barrier.