Sneeze Guards and Sneeze Screens
Sneeze Guards and Sneeze Screens
Our sneeze guards are ideal for public areas such as checkouts and food counters.
This range of freestanding and countertop hygiene screens ensure that you can protect yourself, your staff and your visitors.
What are sneeze guards?
A sneeze screen (aka sneeze guard) is a form of protective screen which creates a physical barrier to prevent the spread of infection from coughs and sneezes. Normally made of acrylic, there is a range of styles of plastic screen, including floorstanding and countertop varieties.
What type of sneeze guard do I need?
The type of hygiene screens you need may depend on your business type and budget. Cough screens aren't just for use on desks.
For staff members who need to stand in public areas, and for other busy locations such as in queues, we also have floorstanding hygiene screens with metal frames. This means they're sturdy enough to remain in place without being screwed down, but remain repositionable when required.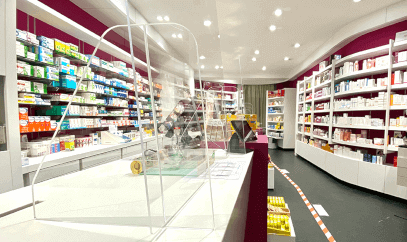 Do you sell cheap sneeze screens for events?
One low cost solution is to use transparent roller banners wherever you need to place a hygiene barrier. Supplied in a handy carry bag, this type of plastic screen is ideal for use at events and for mobile businesses as they can be erected or packed away in an instant.
How should I clean my desk screens?
Desk screens don't require any specialist cleaning solutions, and they can be cleaned using normal household cleaning products, such as soap and water. To keep them polished, you can also use our acrylic buffer, a soft cloth and some acrylic spray cleaner.