Pharmacy and Cosmetics Displays
Attractive pharmacy displays and cosmetic product displays are essential in order to boost sales in the health and beauty sector. From pharmacy signage to cosmetics counters, there's a wide variety of foundational point of sale displays for health and beauty retail. Use these to attract customers and promote your goods and services.
Essential Point Of Sale Displays For Health And Beauty Shops
How should I communicate information in pharmacies?
Leaflet displays are a vital addition to healthcare settings. Customers will be looking for more information about conditions and product ranges. Make this easy to access using leaflet displays on countertops, walls and shelf edges.
How can I improve my cosmetic sales?
Increase impulse buys by cramming small, lower-cost cosmetic items such as lip balm and makeup wipes, into countertop dump bins, such as our acrylic display spheres and cubes. Placing these around checkouts and other areas that customers regularly pass by or wait is a great way to increase basket value.
Another option is to tiered acrylic displays around your till. Tiered displays can be stuffed with impulse-buy items such as snacks, or used to accentuate others, such as in premium product displays behind the counter.
How do I highlight high-value products in my cosmetics counter display?
One way to shine a light on high-value cosmetics items is to use display cases, glorifiers and plinths. Display cases enclose your products safely within a clear acrylic case. These add a "look but don't touch!" effect - a perfect way to display perfumes and expensive beauty products. Glorifiers have a similar effect, without the enclosure, making products more accessible.
Plinths and pedestals come in a range of styles to suit branding and décor. These include glossy acrylic, industrial-looking wire, and rustic wooden pedestals.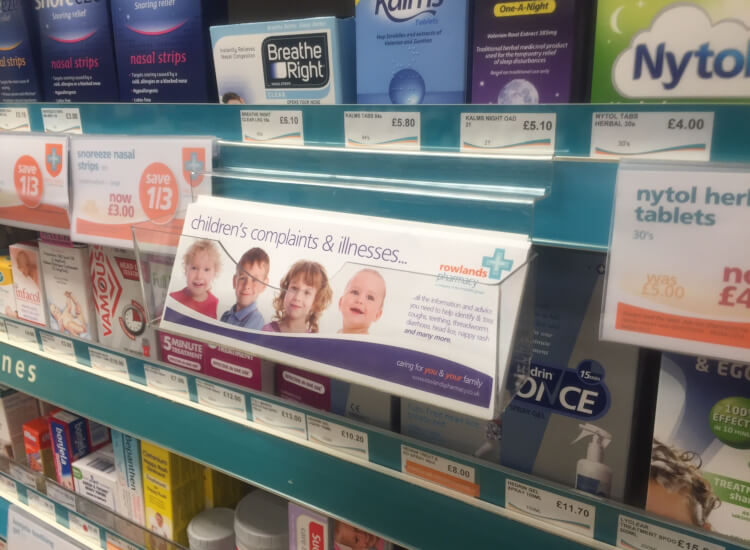 There are many different types of pharmacy signage and cosmetic displays that will improve health and beauty shops
What are the most important types of pharmacy signage and beauty shop signs?
For everyday, over-the-counter items in pharmacies and cosmetics stores, shelf signs are ideal for display prices and promotions. Highlight special offers and attract customers with shelf wobblers and talkers. Display branding and pricing with your shelf edge strips, aka data strips. Clips strips can maximise space and boost cross-selling across product ranges, while illuminated shelf strips highlight higher-priced items such as perfumes and make up.
Clear pharmacy signage and beauty shop signs are key to supplying extra product details and promotional information on your countertops. Countertop sign holders are available in a wide variety of styles, from stylish metal-based frames to simple clear acrylic. Get one to suit your shop design or product range.