Sandwich boards and pavement signs buying guide
Whether you call them A Boards, Sandwich Boards or Pavement Signs, they all do the same job and can all increase the number of people coming into your business.
Outdoor advertising is essential if you have a great offer on, are set back from the main road or are new to the area and want to make yourself known.
It is proven that the right A Board can increase your footfall, so we've answered all your queries below to help you get a head start today on the best Sandwich Boards.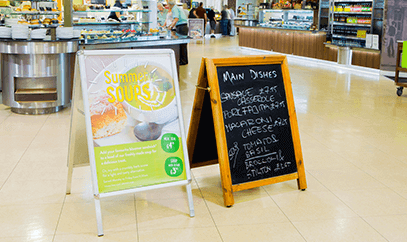 Sandwich Boards and A Boards bring in passing trade.
Chalkboard pavement signs

Clipable sandwich boards

What is a Sandwich Board?
Sandwich Boards are one of the most popular types of pavement sign. They are also commonly known as A Boards, for their 'A' shape frame. They are available in a range of colours, sizes and styles and you can choose from using a printed poster or having a chalkboard set up.
A Boards are great for capturing the attention of passing trade and they are quick and easy to fold up for neat storage. Both the snap frame and chalkboard designs have their benefits but both can be updated regularly and easily.
Why do I need a Sandwich Board?
You need a Sandwich Board if you tick one of the following boxes:
You are trying to increase sales.
You are looking to gain new customers
You have a fantastic offer on that people don't know about unless they go inside.
You are a new business or are new to the area and are not yet very well known.
You are set back from the main high street and people struggle to find you.
You are showing a sporting event in your pub or bar.
Having an A Board is proven to alert both pedestrians and motorists to your business, increase walk in traffic and make people aware of your appealing deals, offers or simply your brand message.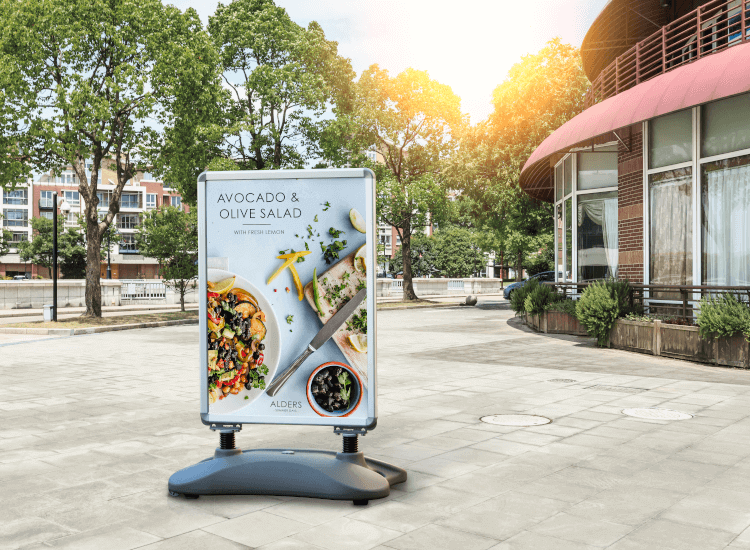 Is an A Board better than a heavy duty Pavement Sign?
The right Pavement Sign for you depends on a number of factors.
If you are based somewhere particularly windy or with harsh weather conditions, then a water based Pavement Sign might be the better option for you. These signs are more durable and sturdy than A Boards but both offer the same quality of advertising. The advantage of A Boards is that they are light and easy to transport and pack away.
How can I protect my poster from the weather?
The best way to make your poster weather resistant is to always print onto a waterproof based paper, such as PVC. This way, your poster will not run or crease should it come into contact with water, whether that be rain or condensation within the frame. We can print your bespoke designs directly onto our waterproof posters, so you can get everything you need for an outdoor poster display all in one place.
Also, our snap frame style A Boards come with UV anti-glare PVC covers which will protect your graphic from fading in harsh sunlight.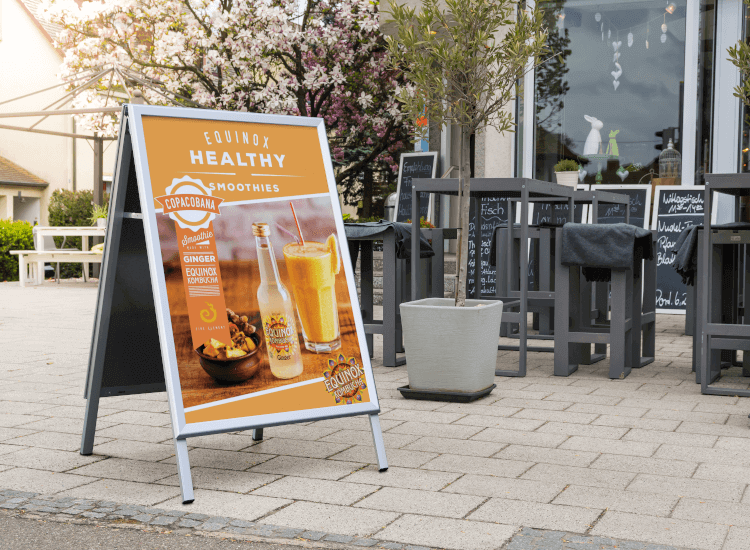 Can I legally place an A Board anywhere?
The rules and regulations for Sandwich Boards vary under each local council, so it is always best to check with your local authority. We recommend that you follow these simple steps to ensure that your A Board is not causing any issues or offences:
Keep your sign in good condition at all times. The council will not approve of untidy, defaced or offensive signs in the street.
If the weather takes a turn, bring your sign indoors. If the sign may blow over into the street or road causing an obstruction, you as the owner could be liable for any damage or accidents.
Make sure the size you use suits the area. If you are on a narrow street or side street, an A0 size board may not be suitable as it may cause blockages.
How do I make the most out of my sign?
The most important element of you sign is the clarity. If the message isn't clear instantly, people will lose interest. A Boards are in place to catch the passing trade, so your offer, deal or message needs to be able to be understood in a glance. To help with this, you can use bold colours, large fonts and images.
Your sign needs to attract the attention of lots of people. Humour always works well, often encouraging people to stop and take a picture. However this isn't the correct tone for everyone, so if you need a more formal approach, striking images also work well.
An obvious but crucial point that is often missed is spelling. A simple spelling mistake will instantly turn people away from your business as it is not only careless, but also unprofessional.
And finally, you want your sign to encourage people to come in or call, so why not say it on your sign? A simple 'visit now' or 'speak to our advisors' will let people know that you are available and happy to help.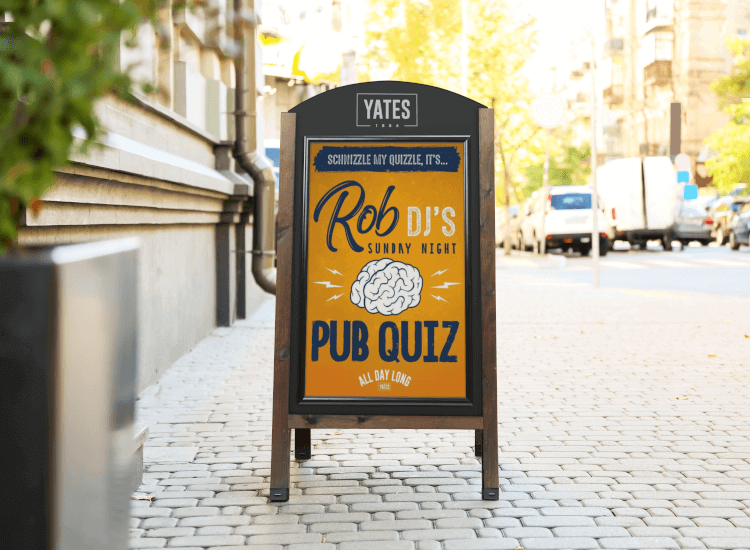 Do you have chalkboard sandwich boards?
Yes, we do have a great range of chalkboard sandwich boards. Write your own promotional messages to add a personal touch to your business.
How do the A boards on the market differ in quality from Clipable sandwich boards?
The A boards available on the market can vary dramatically in quality. Some of the cheaper models are often quite flimsy. They're often made from metal that corrodes, are made from cheap, lightweight metal so they blow over when it's windy and don't provide a firm grip on posters.
Many of our A Boards are manufactured in-house and supplied exclusively by the UK POS Clipable brand, and are designed to be a much higher quality than most on the market. They're made from thicker, heavier anodised aluminium so they won't corrode and they're far less likely to blow over when it's windy. The frames are thick and feature extra springs to create a firm grip on posters, and they have sturdy metal back panels rather than flimsy plastic.
You can feel the difference in quality and engineering as soon as you hold one - ours weigh 8kg compared to just 3kg for some competing models. Yet we sell them in such high volumes that we're also able to offer them at very competitive prices, too.