Wooden POS display products buying guide
Wooden point of sale displays are everywhere at the moment, from retailers to cafes, to events and bars, everyone has upgraded to the latest POS must have.
Wooden POS covers everything from chalk board A boards, tabletop menus and wooden shelving units, all of which bring a rustic and natural feel to your branding.
This style of display is popular among natural product retailers (think groceries, bakers and organic cosmetics), but the range has been adapted to suit every industry.
The hip and vintage feel that wooden display products provide is currently particularly popular amongst cafes, bars, spas, clothing shops and hairdressers.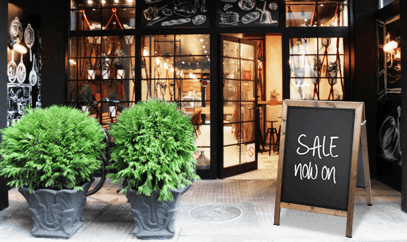 Give your business a new look with wooden products.
Wooden plinths, easels and shelves
How can I use wood displays in my industry?
There is a wooden display piece suitable for everyone, whether you're promoting, informing or instructing people in your industry. The most common sectors to use wooden point of sale displays are hospitality, leisure and retail.
Wooden products are great for use around natural products, such as natural fibre textiles, fresh food and organic cosmetics, as they project an impression of health, relaxation and unpolished trendiness.
What kind of wooden products are available?
Due to the increasing popularity of rustic shop fittings and wooden display stands, UK POS now stock a vast range of point of sale display products manufactured from solid wood.
Some of the products include wood framed chalkboards, wooden menu and condiment holders, wooden display shelves, wooden display crates and wooden leaflet holders for front of house.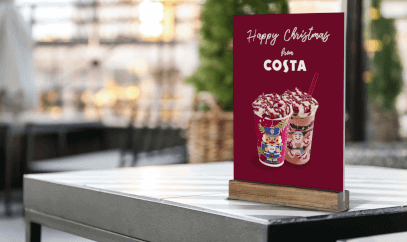 Why should I choose wooden products?
There are many advantages to switching to wooden products over the usual acrylic, perspex or plastic display products.
Wooden point of sale products take care of themselves. You won't need to worry about dirty finger prints or smudges and any fading or scratching will work with the rustic natural finish of the wood.
Wooden display stands, crates and signage can provide a natural, rustic vibe which, when used carefully, can enhance a strong brand messaging throughout your business. Wooden menu holders and chalk boards, for example, are ideal for use in cafes restaurants and pubs which aim to project a homely and comfortable atmosphere
Can wooden displays be customised?
Absolutely, if you are looking to add your brand logo to your chalk board, A board or wooden crate, that can be done. We provide an in house branding service so depending on your personalisation requirements, their will always be a quick turn around on your bespoke product. Simply contact us and let our sales team know about your requirements to get a quote today.
We are also able to offer you other wood stains, so if you are looking for a darker or lighter style of wood this is something we could discuss with you to make sure you get exactly what you are looking for.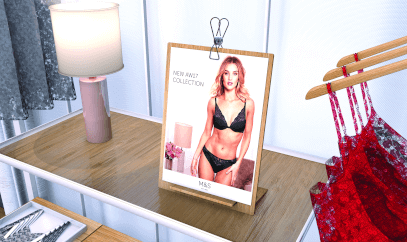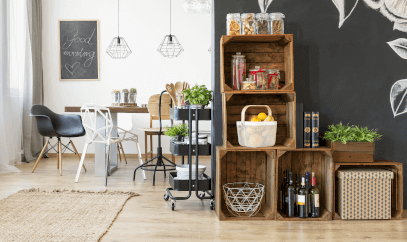 Wooden retail displays
A common use of wooden POS products in retail environments is in bakeries or greengrocers, where they use wooden display crates or wooden shelving with wicker basket displays to present products such as baked goods, fruit and vegetables, or bags of crisps and other snacks.
Wooden POS display products are also sometimes used by clothing or homeware retailers to enhance a particular aesthetic trend. Wooden retail displays look fantastic when used alongside natural fibre textiles such as linen, leather and wool.
Retailers can also utilise wooden menu holders by their till to promote offers to help increase impulse buys. A wooden chalk A board will help increase your footfall and promotes your rustic display theme from the pavement right through to the store. Other wood items such as double sided wooden display shelves can even be used to create a pathway for your customers and influence the flow of traffic around your business.
Wooden POS for the leisure industry
Leisure environments such as gyms, spas and wellness centres can all benefit from the use of wooden POS items. Wood effect fixtures help to identify your business as one that promotes natural and environmentally friendly products and lifestyles.
Display your current personal trainer or no joining fee offers clearly outside your leisure centre with a wooden chalk A board. If your offers change frequently, this is the best tool for the job!
Keep your safety notices or opening hours clearly displayed in a Wood Effect Snap Frame. You can even introduce Wooden Clipboards for people to use when completing their joining form or health and safety questionnaire.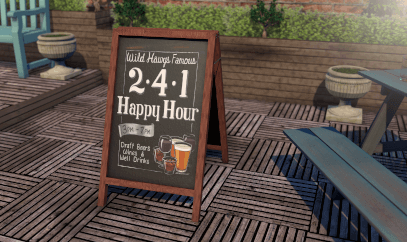 Wooden POS for hospitality
An increasingly popular area for use of wood effect POS is the hospitality sector. This includes pubs, restaurants, cafes and bars, for which there is a wide variety of wooden pos products available. Standing a wooden easel or chalk A board outside your business, for example, is effective for increasing footfall and displaying promotions.
Wooden POS items such as wooden menu holders, condiment holders and suggestion boxes can all be utilised to create a comprehensively themed hospitality environment.