Wooden POS display products buying guide
Wooden point of sale displays are everywhere at the moment, from retailers to cafes to events and bars, everyone has upgraded to the latest POS must have.
Wooden POS covers everything from chalk board A boards, table top menus and wooden shelving units, all of which bring a rustic and natural feel to your branding.
This style of display was once limited to those offering natural products, think groceries and organic cosmetics, but the range has now been adapted to suit every industry.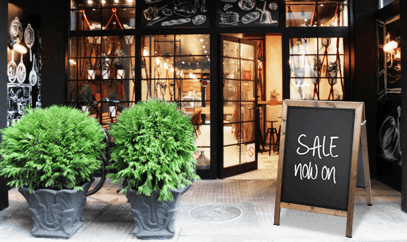 Give your business a new look with wooden products.
What kind of wooden products are available?
Due to its increasing popularity, point of sale display products manufactured from solid wood are now available across a vast range of product types.
Some of the products include Chalk Board Pavement Signs, Table Top Chalk Boards, Wall Mounted Chalk Boards, Wooden Shelving and Wooden Display Boxes.
Why should I choose to have wooden products?
There are many advantages to switching to wooden products over the usual acrylic, perspex or plastic display products.
Wooden products take care of themselves. You won't need to worry about dirty finger prints or smudges and any fading or scratching will work with the rustic natural finish of the wood.
Chalk Boards contained within a wooden frame are an invaluable addition to many businesses.
They can be wall hung or stood on a counter top, depending on your needs.
They can be wiped clean in seconds so you can update them multiple times a day if necessary.
Unlike with printed posters, you can create your own graphics with liquid chalk pens frequently to make your promotion really stand out.
If you are selling a natural product such as groceries or naturally sourced cosmetics, displaying these within a natural setting such as wood will really boost your brand message.
Can wooden products be customised?
Yes. If you are looking to add your brand to your chalk board, A board or Wooden Crate, that can be done. We provide an in house branding service so depending on your personalisation requirements, their will always be a quick turn around on your bespoke product.
We are also able to offer you other wood stains, so if you are looking for a darker or lighter style of wood this is something we could discuss with you to make sure you get exactly what you are looking for.
How can I use wood displays in my industry?
There is a wooden display piece suitable for everyone, whether you're promoting, informing or instructing people in your industry.
Hospitality
Pubs, restaurants, cafes and bars have a wide variety of wooden products available for them.
One of the most popular wooden products is the Wooden Easel. This is the perfect way to attract passing trade outside of your business with your fantastic offers, sporting fixtures or upcoming events.
Introduce Wooden Menu Holders to include your table tops in your make over. Choose from simple wooden bases that your menu or chalk board panel can slot into, or pick a ready made chalk board menu that is secure to a wooden base.
Keep all areas of your business tidy with a Wooden Condiment Holder. This will not only keep cutlery and sauces neat, but it will tie in with the rest of your rustic theme.
Leisure
Display your current personal trainer or no joining fee offers clearly outside your leisure centre with a wooden chalk A board. If your offers change frequently, this is the best tool for the job!
Keep your safety notices or opening hours clearly displayed in a Wood Effect Snap Frame. This snap frame has all the benefits of a wooden product with a strong aluminium frame.
You can even go as far as to introduce Wooden Clipboards for people to use when completing their joining form or health and safety questionnaire.
Retail
Wooden Display Stands are a great way to display your products and can be paired with wicker baskets for the completed look.
A free standing double sided display stand is not only ideal for your products, but the double sided design means you can place this in the middle of the store to create a pathway for your customers. This way you can dictate how they move around your store.
Retailers can also utilise wooden menu holders by their till to promote offers to help increase impulse buys.
A wooden chalk A board will help increase your footfall and starts off your rustic display theme from the pavement right through to the store.