Suggestion Box buying guide
If you are offering a service, feedback is always welcome and for that there are Suggestion Boxes, which are a simple yet effective way of improving not only your customer satisfaction, but your job satisfaction.
They can also be used as Ballot Boxes for voting systems or as collection boxes for charitable donations and competition entries.
Place them on or near countertops in waiting areas or receptions for maximum exposure.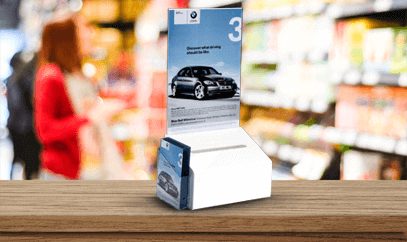 Suggestion Boxes are an effortless way to collect data.
What style of box do I need?
There are a variety of different box styles, each with their own benefits. When choosing your ballot box, you should consider what you are collecting, what space you have, how large your forms are and in what volume are you expecting results.
Lockable – We recommend using a lockable case if you are collecting money, something of value or something confidential, such as personal data or votes.
Clear or colours - If you are collecting something private and confidential, it would be best to use a white or other opaque box. This way, all your information is out of view of the public.
With dispenser - If the information you are collecting requires instruction, a leaflet or poster may be the best way to communicate this. A dispenser also adds an interactive element to your display.
Floor standing – A Floor Standing Ballot Box is perfect for larger forms or businesses that are expecting a large volume of feedback as they offer a larger capacity. They also save on countertop space.
Where should I place my Suggestion Box?
Depending on what type of information you are collecting, there are a variety of key areas you should consider placing your box.
If you are looking for feedback on your service, event or product, or you are collecting competition entries, place your box near a till, exit or waiting area. These are key places where people will be lingering and will be more likely to spot the box and take the time to fill out a form.
If you are using your box to collect money or something of value, we recommend keeping this somewhere secure and in sight at all times. If possible, secure the unit to your counter or a fixture.
Do you make bespoke Suggestion Boxes?
Yes, we can produce boxes in your required size and colour with your company name or logo branded onto the box. We can also add poster holders, leaflet dispensers or locks onto your chosen unit to create the perfect box for the job.