Social Distancing Posters
Social Distancing Posters
Why does my business need social distancing posters?
Social distancing posters help your customers and staff understand the guidelines that your business has implemented to reduce the spread of infection. UK POS has a wide selection of pre-designed posters in sizes ranging from A1 to A4, that you can display in wall mounted frames, hang from ceilings, or place in pavement signs.
How many pre-designed social distancing posters do you offer?
We have a variety of pre-designed posters that display messaging that aims to reduce disease transmission within your business and to encourage compliance with government guidelines. These designs include:
'Card Payments Preferred'
'Changing Rooms Closed'
'One Way System'
'One-In, One-Out'
'Please Do Not Touch'
'We Are Open For Business'
'We Are Open. Welcome Back.'
'Catch It, Bin It, Kill It'
'Please Clean Your Hands Here'
'Please Clean Your Hands - Instructional Poster'
'Please Wait Here'
'Do Not Enter If You Have COVID-19 Symptoms'
'Ministry Of Silly Walks - Social Distancing'
'COVID-19 Information'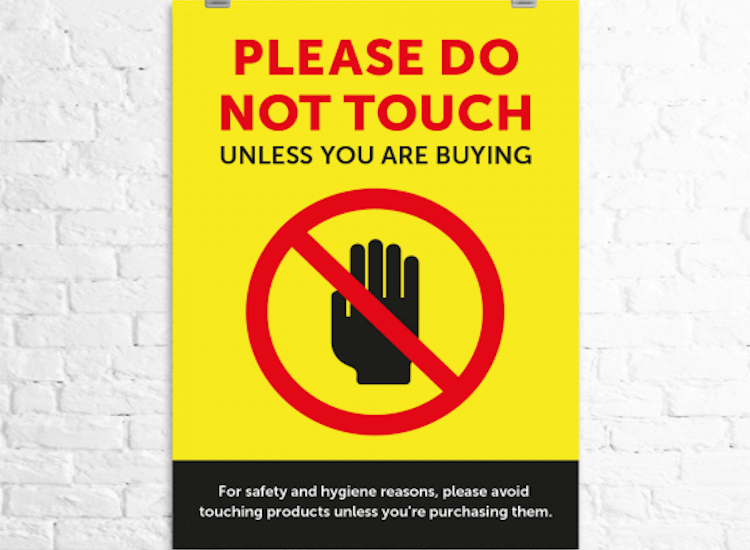 How can I find the type of poster that I need?
We have two different types of poster: Social Distancing Posters and We Are Open Posters. Pick your preferred pre-designed poster from the drop down menus and let us do the rest. UK POS makes it easy for you to display current government advice around your business.
Can I get custom-printed posters?
As well as our range of public information and hand washing posters, we also offer a printing service. We print custom artwork onto semi-rigid waterproof paper which can be used both indoors and outdoors.