Social Distancing Posters
Social Distancing Posters
Why do I need social distancing posters for the workplace?
Social distancing posters for the workplace help your customers and staff understand the guidelines that your business has implemented to reduce the spread of infection. If you need covid signage UK POS has a wide selection of pre-designed posters in sizes ranging from A1 to A4, that you can display in wall mounted frames, hang from ceilings, or place in pavement signs.
How many pre-designed social distancing posters do you offer?
We have a variety of pre-designed posters that display messaging that aims to reduce disease transmission within your business and to encourage compliance with government guidelines. These designs include:
'Card Payments Preferred'
'Changing Rooms Closed'
'One Way System'
'One-In, One-Out'
'Please Do Not Touch'
'We Are Open For Business'
'We Are Open. Welcome Back.'
'Catch It, Bin It, Kill It'
'Please Clean Your Hands Here'
'Please Clean Your Hands - Instructional Poster'
'Please Wait Here'
'Do Not Enter If You Have COVID-19 Symptoms'
'Ministry Of Silly Walks - Social Distancing'
'COVID-19 Information'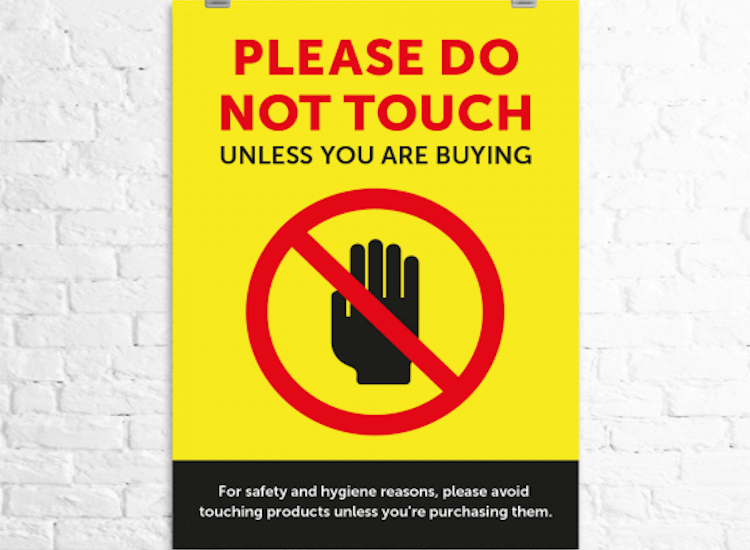 How can I find the right type of social distancing posters UK POS supply?
We have two primary types of poster: Social Distancing Posters and We Are Open Posters. Pick your preferred pre-designed poster from the drop down menus and let us do the rest. Whatever your style of business, when you need a social distancing poster UK POS has the solution for you. We make it easy for you to display current government advice around your business.
Where do I need covid posters and hand washing posters?
Whatever kind of business you run, hand washing posters are a good choice. We supply professionally-designed covid posters for pubs, shops, schools, and anywhere else that might need them.