Queue barriers for queue management
Queue management techniques are designed to improve your business by managing your customers' waiting experience and reducing the perceived wait time. Our range of queue barriers are a straightforward and easy solution for businesses of all types and sizes.
We supply queue control barriers in a variety of styles, from twisted rope to velvet to chain, and even freestanding or wall mounted retractable options. The great thing about our queue barrier kits is that they are extendable, so you can add on to your existing kit.
Is queue management difficult?
You don't need a high end electronic system to manage lines in your business. Most of the time, all you need to do is show people where to wait. We supply simple queue management systems that get the job done, such as rope or chain barriers. These pole and base styles are easy to place outside and reposition as required, helping your customers know where to line up and reducing hassle for your staff.
How do I keep my customers happy while they queue?
More often than not, queuing can be boring or, even worse, infuriating. Why not grab the advertising opportunity and keep your customers distracted from their wait by placing signage around the queuing area for them to look at? Digital displays give you more freedom in this, and they are proven to be more engaging for customers. Our retractable queueing systems come with the option of an add-on poster holder for a quick and easy queue advertising option.
For checkout queue management, use merchandising kits to give people something to browse on the way to the till. As well as keeping your customers happy, this will also most likely result in you getting some add on sales, increasing your average order value. Result!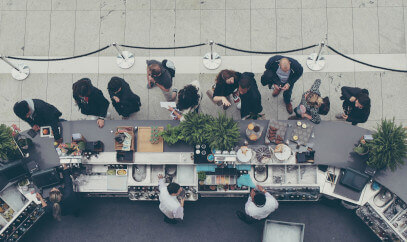 What kind of queue barriers do I need?
Different venues may require different types of queuing systems. For example, a retractable barrier system is great for large venues with changing needs, such as in the case of airport queue barriers. For smaller venues or exclusive events, you might opt to use velvet rope barriers for a more high-end feel. These are perfect for use as theatre rope barriers.
You can choose a colour of queue control barrier ropes to suit your branding, and we stock silver and black stanchions. For long queues, use our retractable barrier kits with add on poster holders, to inform people at the back of the line of expected wait times.
How to organise a queue:
Use simple queue management solutions such as pole and chain kits to make it clear where customers should go.
Use retractable barriers to cover large or changing areas, such as for airport queue barriers.
Use twisted or velvet rope barrier kits for a more exclusive feel.
Making queue management more entertaining for your customers is more profitable for you.
Use custom printed floor vinyls as extra visual aids while customers queue indoors.