Snap frames buying guide
Snap frames are one of the most widely used forms of point of sale display used to present posters and other materials. They come in a wide range of sizes to suit any size poster, as well as a huge range of colours to match your decor or your branding.
Snap frames make it easy to replace posters and keep them safe from the elements and looking neat and tidy. There are a huge selection of snap frames on the market to suit all requirements and budgets. Browse our Clipable snap frames, which are manufactured in-house at our facility in Greater Manchester.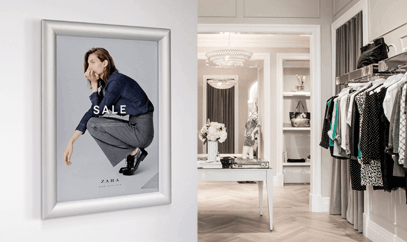 Snap frames let you replace posters quickly and easily.
Counter standing and floor standing snap frames
Lockable, tamper resistant and LED snap frames
What is a snap frame?
A snap frame is a poster case that has a frame that snaps shut and holds your poster firmly in place beneath a clear PVC protective cover. They are commonly used in retail environments for a quick and easy point of sale display solution. UK POS has a wide range of snap frames available in many colours and sizes to suit your business environment.
What size snap frames do you sell?
Depending on the model, our snap frames are available in the following standard paper sizes: A6, A5, A4, A3, A2, A1 and A0. We also stock some extra large snap frames in huge 40" x 30" and 60" x 40" sizes.
Are they always wall mounted?
They are typically wall mounted but we also sell counter standing snap frames and floor standing poster snap frames. We've also added the same snap frame technology to many of our pavement signs to let you easily replace posters in these, too.
Snap frames are usually wall mounted, but we also sell floor standing versions.
Can I use snap frames outdoors?
Yes, snap frames can be used outdoors but there are some caveats. Firstly, if you're placing your snap frame in an area open to the elements we highly recommend you use a PVC print instead of paper, otherwise your posters are likely to become crinkled due to condensation build up. Secondly, you should pick a model designed specifically for use outdoors with a more robust and wider frame and cover.
What is the best way to attach the Snap Frame to my wall?
Our snap frames come pre-drilled and are supplied will Rawlplugs to help you attach them permanently to your wall. If you don't want to drill your wall to create a permanent fixture for your snap frames, you can also attach them using special adhesive tapes, such as our Double Sided Adhesive Foam Tape and Foam Pads or our high strength Very High Bond (VHB) Tape.
If you think customers might tamper with your posters, consider a lockable Snap Frame.
How can I stop people tampering with them?
The ease of changing clip frame posters can mean that in some circumstances people may remove or tamper with your posters. If that's likely to be an issue for you then you should consider a tamper resistant snap frame, which can only be opened easily with a special Snap Frame Lever Tool, or alternatively a lockable poster case which can only be unlocked with a key.
Can I use normal paper prints in snap frames?
Yes, you can use normal paper prints inside snap frames. For a really high quality finish we recommend getting your artwork printed professionally, ideally on PVC paper as this is resistant to moisture and condensation that can cause inks to run and paper to crinkle. You should definitely consider PVC prints if you're placing your snap frames anywhere near moisture, such as toilets, lobbies or anywhere exposed to the elements.
Can I insert chalkboard into snap frames?
Yes, there's no reason why you are limited to posters. We sell a range of chalkboard inserts which can easily be inserted into snap frames, allowing you to update them as often as you like, simply by writing on the board with a special liquid chalk pen.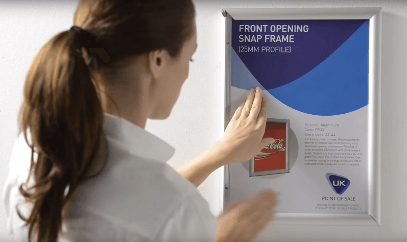 It's really easy to replace the posters in your snap frame - just open the frame, switch the poster and snap shut.
What are snap frame covers for?
Our snap frame covers are designed to protect your posters from the UV rays of the sun, which minimises bleaching and helps your posters last longer. They'll also keep off moisture but they're not designed to be waterproof.
After a period of time, PVC plastic can eventually lose some of its clarity and elasticity so we recommend changing your snap frame covers periodically. You can purchase spare snap frame covers to keep your snap frame posters looking their best.
Is it easy to replace posters?
Yes, it's very easy to replace posters. For most snap frames you can simply pull the frame edges upwards to release the poster and the protective cover.
Then simply insert your poster, re-position the PVC cover and snap the frame shut.
Changing the poster in a snap frame is very easy and can be done in seconds.
Why do some of them have wider frames than others?
Besides the aesthetics of a wider frame on a bigger snap frame, extra frame width gives a tighter grip on the poster and the cover, so these are better for use outdoors than snap frames with a narrow frame width. Wider frames are more expensive to produce, so they tend to cost slightly more.
How do snap frames differ in quality?
There are many snap frames on the market and they vary in quality. Ours have stronger springs to keep them shut tightly and prevent posters slipping out, the mitres are neater and correctly aligned giving a professional finish and they have a sturdy plastic back panel rather than the flimsy sheet of card found in inferior products.
We also stock a huge range of styles and colours and are prices are checked daily to ensure we're competitively priced.
Can snap frames be illuminated?
Yes, a number of LED illuminated snap frames are available which are ideal for darker areas or highlighting posters in store.
LED snap frames are ideal for use within businesses that are open later in the evenings, in order to make promotions and displays stand out a little more during darker hours.
Our Slim LED Box is a snapframe with a built in LED lighting system - perfect for darker areas or just drawing attention to a specific poster.