LED Signs
Do I need electronic signage?
LED displays are a modern and attention-grabbing way to present messages to your customers and to attract visitors into your business, and they make a great alternative to neon signs. They can be used to illuminate dark corners, or draw the eye to various areas inside your establishment.
LED displays are also ideal for use in businesses which are open at night as a brightly lit window display is a quick way for people on the street to recognise that your business is present and open.
What kinds of illuminated signs do you carry?
We stock a range of different LED displays for business. These include LED neon signs such as a neon open sign which is available in either an oval or a rectangle shape and has a vibrant glowing effect.
We also stock programmable LED shop signs which are available in various sizes and with either multicolour or white LEDs. Programmable LED displays allow the user maximum flexibility over the messaging they choose to display.
What could I display on my programmable LED signs?
If you want to display prices, event times or just an "Open" message, this is relatively straightforward on these LED displays. To keep your customers engaged, consider displaying fun, quirky messages about things pertaining to your industry, such as relevant jokes, puns and trivia.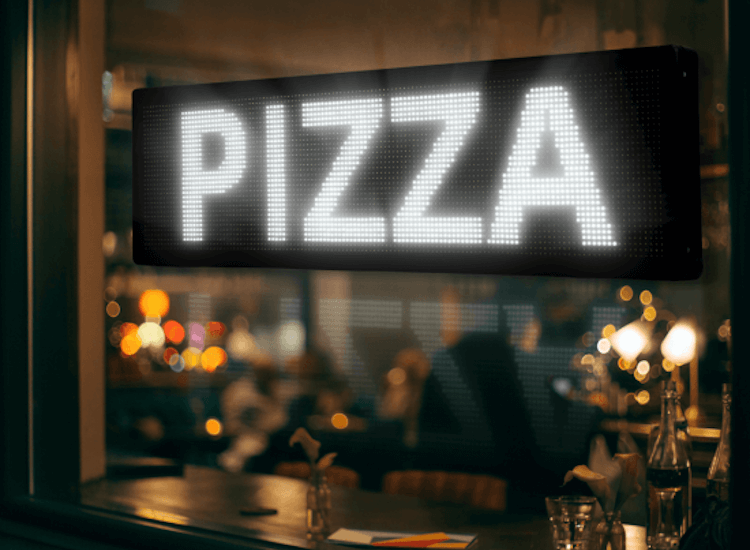 Where should I use LED displays?
LED neon signs are particularly popular in bars, takeaways and convenience stores as they can attract attention on the darkest nights even from far away. An LED open sign window display makes your business look vibrant and inviting.
LED signage is also great for use in leisure and hospitality settings or even nightclubs, to display messages such as event information, useful reminders, or even just fun messaging. All of our LED signs are suitable for hanging in windows or against walls, so you can display your illuminated signs wherever you want.
How does the electronic signage work?
All of our electronic signs are mains powered with discreet power cables, and you can amend the messages on your programmable signs using a USB memory stick.