Essential point of sale displays for washrooms
Facilities and washrooms provide many opportunities for utilising signage, including wayfinding signage.
POS displays can be used as toilet notices, cleaning schedules or as part of washroom advertising. Toilet advertising is a very well-established medium that is often successful.
The effective display of schedules and advertisements within washrooms is beneficial if you use the correct sign holders. We advise on some of these below.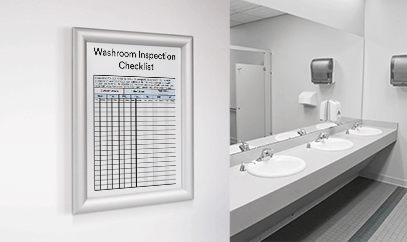 Utilise signage within facilities and washrooms.
Essential POS products for washrooms
Snap frames for bathroom stall advertising
Snap frames can be used for both displaying toilet door notices or cleaning schedules. Snap frames are a popular choice for washroom signage as they are quick and easy to update thanks to their click frame opening.
We have a range of snap frames which come in various colours that you can choose to match your branding and also the option for tamper resistant frames if you require the only people with access to be staff.
Poster sleeves for use in wet rooms
Poster sleeves are great for bathroom stall advertising due to their protective outer which will keep your insert looking its best.
Poster sleeves come in a range of materials from acrylic to flexible PVC and some also include an adhesive backing for instant application. Poster sleeves are also easy to update thanks to their simple slide in design.
Floor standing displays for toilet notices
Floor standing poster holders are great if you need to ensure that your washroom advertising gets seen. Floor standing poster holders can also feature built-in snap frames for quick and easy poster updates.
Available in a range of paper sizes, use a floor standing poster holder to present notices such as cleaning in progress.
Whiteboard inserts for cleaning rotas
We supply coloured Magic Whiteboard Sheets which can be used alone as they simply attach to any hard flat surface using static. Place the whiteboard inserts into a snap frame for a more professional appearance.
Whiteboard inserts can be updated in seconds with whiteboard pens and they are a cost-effective solution as they can be used multiple times.