Essential point of sale displays for vape shops
The e-cigarette market has boomed lately and vaping is now a part of popular culture, as well as being a healthier alternative to traditional cigarettes. A 2018 review by Public Health England estimates that between 22,000 and 57,000 people per year are quitting smoking with electronic cigarettes. They predict that this number is set to rise, as popularity increases and concerns reduce.
While vape shops continue to pop up all over the country, how can retailers stay ahead of the trends and ensure that their business is profitable? Read on to find out our top tips on how to merchandise your point of sale for electronic cigarettes and accessories.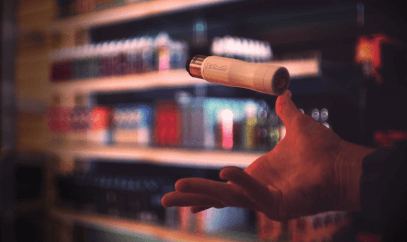 If you are opening a vape shop or just looking to draw in more business, check out our point of sale products for the vape sector.
Essential POS products for vape shops
From:

Was: £1.73

Special Price £1.55

ex. VAT

FG2

Despatched in 7-10 days
Vape Sector POS
How can I promote a vape shop?
Vape shop advertising can be tricky due to legal issues. For example, advertisements for nicotine products on television and in print are subject to restrictions. We recommend that you check out the legal situation in your local area before putting out any expensive ads for e cigarettes. Fortunately, you can use our point of sale products to ensure that you are advertising well in and around your brick-and-mortar business.
A great way to ensure customers know of your existence is to use pavement signs and outdoor event flags. A boards and water based pavement signs will alert passing pedestrians to your presence, and their double sided display capability gives you plenty of space for your promotional messages. Alternatively, you could invest in some Event Flags. Not just for using at events, these printed flags will ensure your business is spotted by motorists as well as pedestrians passing by.
Keep customers informed with leaflets and leaflet holders
Many of your suppliers will have brochures about their products. It is in your interest to promote this literature to customers as seeing your products and offers in an attractive brochure will encourage them to make a purchase. You can use wall mounted leaflet holders to save valuable countertop space, or you can use Counter Standing Leaflet Holders if you would prefer accessible leaflets on your tabletops.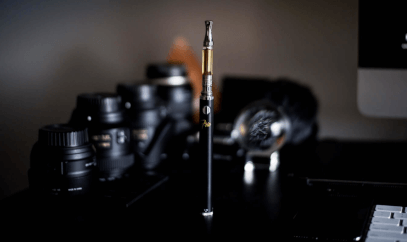 Display e-cigarettes individually to enhance their appeal.
Vape shop decor: where should I start?
Think carefully about the image you want to project when opening a vape shop. We suggest that you aim for a clean looking environment without clutter. Some customers might be put off vape shops due to connotations with head shops or drugs, despite the fact that vaping is now promoted as a safer alternative to smoking.
To counteract any negative associations customers may have, make your store inviting with lots of good, warm lighting and glossy display units.
How do I display e liquids?
If you are currently learning how to set up a vape shop, our point of sale products for ecig retailers can help you. For a low cost way to display your e-liquids (aka vape juice), try our E Liquid Display Stand, which is easily placed on your countertops or on shelving behind your till. This unit displays your products neatly, making them easy for your customers to reach, and easier for you to restock when required.
What is the best way to display vape pens?
An E Cigarette Holder or vape pen holder is a fantastic way to showcase a new or high quality e cigarette pen. These are available to hold one, three or five vape pens side by side. The multiple display option allows vendors to display different colours or specifications of e cigarette side by side. Make sure you display a range of products and prices to suit different customers, from luxury options to budget alternatives. Our Product Glorifier Unit is a good way to make any high quality product look desirable to customers. Alternatively you can use dump bins and merchandising tubs to convey a bargain image for discounted products.