Essential point of sale displays for retail shelving
No matter what style of shelves you have in your store, it is vital that they are helping to sell your product.
One of the most important aspects of any retail display is price. If your price, promotion or offer isn't clear to your customer in an instance, then your POS isn't doing its job.
There are a number of tools available to make your prices, messages or products clearer, whether you have metal shelves, wooden shelves or a free standing display unit.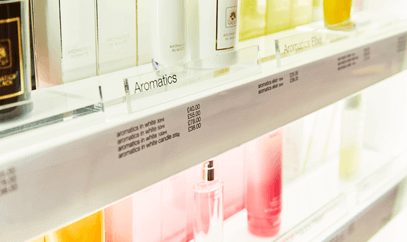 Retail shelves are filled with chances to maximise sales.
Retail Shelving POS
From:

£5.23

£3.45

ex. VAT
Shelf Edge Fixings
The most cost effective way or making sure your products are clearly labelled, is by adding a point of sale display to the edge of your shelf.
This style of display includes Shelf Talkers which can be fitted to your retail shelving in a variety of ways, so there will definitely be something to suit your store.
A Shelf Talker allows you to clearly display prices, promotions, offers or product information that your customer can see from a distance, in turn drawing them into your display and product.
You can also utilise your retail shelves to make your product really stand out by introducing a Wobbler or Sign Holder. This way, your fantastic offer will truly stand out among the other products and help to draw people in.
Shelf Edge Data Strips
Shelf Strips are another fantastic addition to shelves. These are ideal for supermarkets with a selection of products on sale in one area and can be filled with the simplest of attractive terms from 'sale' to 'new products'.
A Data Strip does not necessarily need to be used to advertise a sale or promotion. If you have a shelf full of products from the same designer, why not fill the Strip with the brand logo so people know at a glance who this product is by?
This technique is attractive to customers as many shoppers are looking for a particular brand, especially when it comes to clothing and homeware.
Much like Shelf Talkers, Data Strips are available in a variety of styles to ensure there is something suitable for nearly all retail shelves.
Shelf Dividers
When displaying multiple products of a similar function or design in one area, it is important that they are organised. Shelf Dividers are fantastic for cosmetics, bottles and some foods.
Keeping your shelf tidy creates for an enjoyable and easy experience for your customers; they can browse at their leisure with everything neatly displayed in a logical manner.
Acrylic Bridges
When displaying smaller products that are available in different sizes or colours, it is vital that the customer knows there are other options available.
Adding an Acrylic Display Bridge to your shelf allows you to display all of your available options with the fantastic integrated tier system.
This style of shelving display works especially great for cosmetics and many other small products. Use an Acrylic Display Bridge on a variety of shelving types or even in a display cabinet to create a really luxurious display.
Wicker Display Baskets
If your brand is a little more rustic and natural, why not reflect this in your shelves?
Wicker Display Baskets are a great way to display a range of products including groceries, natural cosmetics or even pet supplies.
These can work well around your store on your existing retail shelves or for a full wooden make over, introduce some Wooden Shelves that the baskets are designed to sit into perfectly.
This not only creates extra retail shelving space, but an attractive and inviting display.
Display Spheres
If you are looking for a way to make your retail shelving a little more interesting, introducing an acrylic display to show case your products is an option to consider.
Display Spheres are perfectly designed for increasing impulse buys and average order values if they are used correctly. Display them on your till countertop or on shelving units around your store.
The front opening invites people in to help themselves to a product whilst the clear design means your customers can see everything that is on offer. Dependent on your product, this can create a colourful and eye catching shelf display.