Essential point of sale displays for jewellers
Displaying your jewellery in an appealing and enticing way is key to increasing your sales. From your jewellery window display to impulse purchases at the till, all areas need attention to maximise AOV.
Whether you are a jeweller or a cosmetic or clothing retailer selling jewellery accessories, there are visual display accessories available to help improve your displays.
From acrylic stands to purpose designed ring holders, here we will give you a step by step guide on how to perfectly display your jewellery.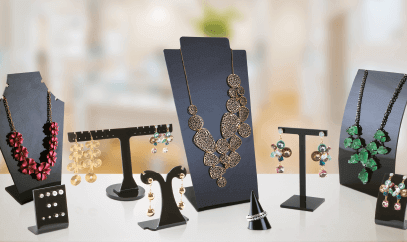 Maximise your sales with professional jewellery displays.
Jewellery display pedestals
To really showcase your high-end jewellery, we recommend using a Jewellery Display Pedestal. Jewellery display plinths and pedestals help to create a key focal point in your store to attract customers.
Whether it is a seasonal offer, the must have diamond ring or a new-in watch, a display case and pedestal will attract the right attention. Available in a variety of colours, finishes and sizes, this visual solution is perfect for all brands.
Earring displays
Our flat earring display stand is manufactured from black acrylic and it is suitable for displaying either studs or drop earrings. The glossy black finish helps to make your jewellery stand out, an effect that can be enhanced by the careful use of display lighting.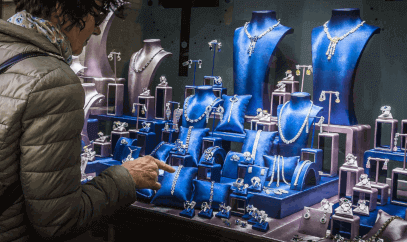 Watch and bracelet displays
Bracelets can be displayed on a T-Arm or an L-Arm in a similar way to necklaces. Bracelet displays are a great way to group together multiple bangles, styles and colours to create a colourful countertop display.
Watches can be displayed on a T Arm or L Arm, however expensive wristwear items are best displayed in a single unit to really showcase their qualities. An acrylic jewellery display plinth is designed for almost any size or style of watch and ensures that the face, strap and fastening can be seen from all angles.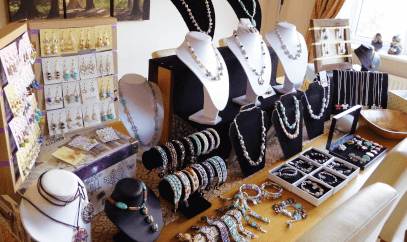 Ring displays
Displaying a ring can be tricky, so a purpose designed ring display is always the best option. Here at UK POS, we supply the Ring Display Stand Set. Commonly found in jewellers window displays, this style of set is perfect for display a designers range or similar styles.
How can I display necklaces?
An ideal way to display necklaces is from an L-Arm or a T-Arm. These countertop jewellery stands are adjustable in height, making them a versatile choice for use in various settings and with various types of necklace. They are also suitable for displaying other accessories such as neckties and headscarves, or for hanging packaged products using hang tags.
A T-Arm Countertop Display Stand is a t-shaped display arm which allows you to hang necklaces or bracelets on both sides of the stand. This is helpful if you have two different ranges or price tiers you wish to separate slightly. An L-Arm is similar but with just one arm at the top of the stand. These display arms help to keep jewellery neat and attractive for your customers to browse and handle.
Costume jewellery
For smaller, indelicate and low-value jewellery, such as plastic children's bracelets, an acrylic display tub or clear display sphere will keep your items neatly accessible on a countertop while still remaining visible through the display case.