Essential point of sale displays for jewellers
Displaying your jewellery in an appealing and enticing way is key to increasing your sales. From your jewellery window display to impulse purchases at the till, all areas need attention to maximise AOV.
Whether you are a jeweller or a cosmetic or clothing retailer selling jewellery accessories, there are visual display accessories available to help improve your displays.
From acrylic stands to purpose designed ring holders, here we will give you a step by step guide on how to perfectly display your jewellery.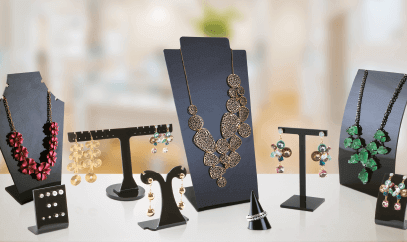 Maximise your sales with professional jewellery displays.
Ring displays
Displaying a ring can be tricky, so a purpose designed ring display is always the best option. Here at UK POS, we have three off the shelf ring displays available today.
The Ring Display Cone - Available in black or clear acrylic, this style of display is perfect for stacking rings to show the completed look. A simple display that requires no assembly.
The Ring Display Stand - This is an affordable and simple alternative to other displays. The flat sheet simply rolls into shape and is secured into place by your ring.
The Ring Display Stand Set – Commonly found in jewellers window displays, this style of set is perfect for display a designers range or similar styles.
Watch displays
Watches are best displayed in a single unit to really showcase their qualities. A single watch display stand is designed for almost any size or style of watch and ensures that the face, strap and fastening can be seen from all angles.
Earring displays
Similar to necklaces, your style of display depends on your earring style. From studs to drop earrings to hoops to costume jewellery, there is an earring stand suitable for your product.
For studs, there are clear, black or white acrylic stands designed at the optimum viewing angle for us on counter tops or in window displays. Display up to 36 pairs in one unit – perfect for tattoo and piercing stores!
There are a variety of t-stands available to display drop or hook earrings. The added height of the stand will help show the drop of your earring to display the finished look to customers.
Display pedestals
To really showcase your high-end jewellery, we recommend using a display pedestal and case. A pedestal is a great way to create a focal point in your store to attract customers.
Whether it is a seasonal offer, the must have diamond ring or a new in watch, a display case and pedestal will attract the right attention.
Available in a variety of colours, finishes and sizes, this visual solution is perfect for all brands.
Necklace displays
There are a variety of different necklace stands available to suit all jewellery styles, including high end necklaces to costume jewellery.
For delicate evening wear necklaces, there is the Slimline Necklace Stand which is perfect for showcasing one piece in your window or display cabinet.
For the full affect, there is the traditional Necklace Display Stand to show customers how the piece drapes and sits on the décolletage.
If you are a retailer selling larger day-to-day pieces or costume jewellery, there are the wider set display stands that can be used to layer pieces together to create a stand out visual display.
Bracelet displays
Bracelet displays are a great way to group together multiple bangles, styles and colours to create a colourful counter top display in any retail environment.
There are also single bracelet displays available to perfectly showcase the delicate drape of a more expensive piece.