Essential point of sale displays for hairdressers
Hairdressing is a competitive industry, with people tending to stay loyal to one salon once they have found the ideal cut and colour, so enticing people into your business is tough.
Investing in the correct POS to display your offers and images of your work are vital.
Creating an enticing hairdresser's window display, informative wall displays and tidy countertops are simple steps you can take to ensure you are marketing effectively at your point of sale.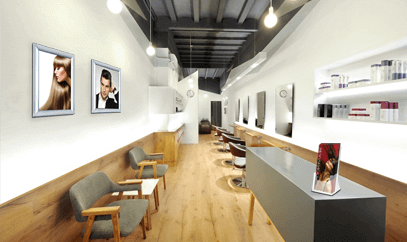 Gain and retain customers with the correct POS displays.
Styling product display stands
Pavement displays
From:

Was: £39.90

Special Price £35.00

ex. VAT
Wall mounted posters

Countertop signs and business card holders
I want to attract new customers, what is the best way to do this with POS?
The best way to let people know about your fantastic offers for new customers, a blow dry or a treatment is with outdoor point of sale displays. Introducing a pavement sign to your business is a simple yet effective way to catch the attention of passing pedestrians and motorists.
All of our pavement signs and a boards are double sided for double advertising, so you can display two different offers at once.
For maximum impact, make sure your poster or chalk design stands out, encourages people to come inside or call and is clear to the customers what you are offering.
I don't have space for a pavement sign outside my salon, how can I utilise my salon display?
Window displays are a great way to make your shop front stand out from your neighbours and competition. This is a key area for displaying photos of your work, current promotions and showcasing your vast range of hair treatments and products.
A cable or rod display kit is the best way to make your window stand out and can be customised to suit your space. Add more poster wallets in any orientation to create a completely bespoke display which is ideal for a variety of posters including images and text.
If you are looking for something a little simpler, poster holders with suction cups are a quick and easy solution for an empty window display. These are great for images, prices and opening times.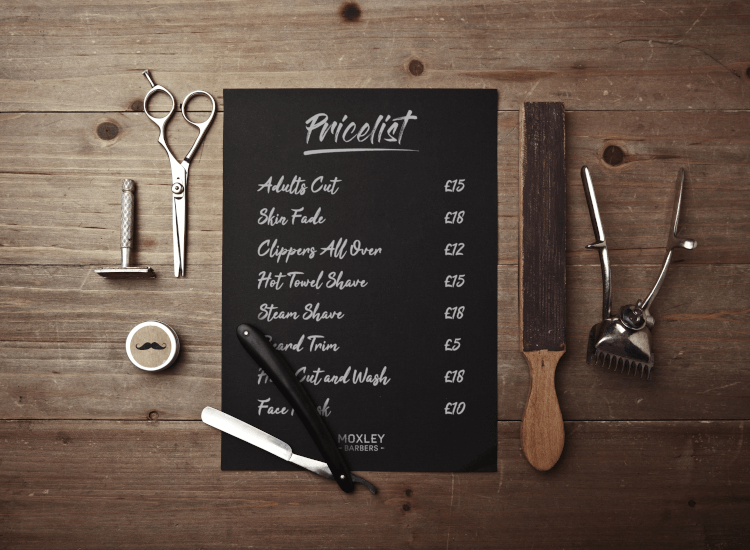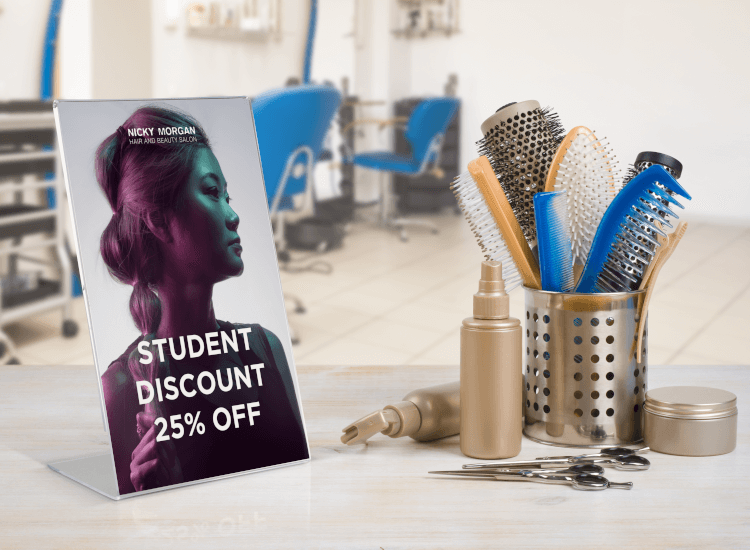 How do I encourage salon customers to return?
Maintaining brand loyalty is a crucial element to hairdressing. A simple way to leave an impression with your customers is with leaflets.
Display your leaflets in an organised, clear and professional manner with a variety of leaflet holders to encourage customers to take a part of your business away with them. Advertise your prices, points system or range of hair treatments in your leaflets, as well as using business cards to give customers your contact details and details of their next appointment.
Display your business cards and loyalty cards in business card holders in key areas such as your waiting area and by the till, in order to encourage people to pick up and browse.
I want to display some pictures of hair designs and promotional images for our product range, what is the best way to do this?
Snap Frames are the ideal solution for all poster needs. They are available in a range of colours to suit all brands, easy to wall mount and simple to use with the front opening mechanism.
In an environment full of hair spray, products and water, your posters need to be protected. All of our snap frames come complete with a PVC UV anti-glare poster cover to ensure your graphics look their best for longer.
If you want to make one particular poster stand out, why not invest in an LED poster frame? The backlit display will make your graphic stand out in any setting while creating a modern yet professional appeal.