Essential point of sale displays for estate agents
Before you even enter an estate agents you are greeted with numerous opportunities for a great estate agent display. From the window display to the pavement, all areas should be utilised with the correct estate agent supplies.
Point of sale displays for estate agents can be used day or night by using illuminated LED poster pockets, while A boards can bring in the passing trade.
Once your customer is in, all your paperwork and leaflets should be displayed in a professional and orderly manner in order to leave a lasting impression.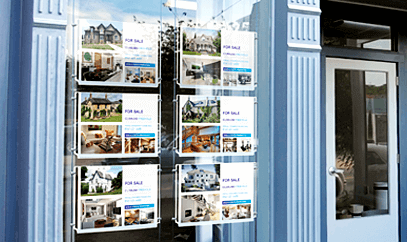 Professional point of sale displays for estate agents.
Estate agent supplies for window displays
Leaflet holders for indoor estate agent display
Pavement signs for outdoor estate agent display

Window displays and posters
What are the best estate agent supplies?
Ceiling to Floor Poster Kits are a fantastic addition to any estate agent display as they can clearly display both images and text to passing trade. They will fill your window perfectly without the mess of having to use any adhesive. Cable and rod window displays are available in a wide range of sizes and poster combinations, allowing you to display multiple properties at once. They are also double sided as standard, meaning that customers can browse your display from both inside and outside of the premises.
If you're looking for something a little simpler, window poster holders quickly attach to the window using either suction cups, adhesive pads or a static self-cling PVC sleeve. Window poster holders are lightweight and repositionable. For a more eye-catching estate agent display, you could also introduce an LED illuminated poster holder or cable kit.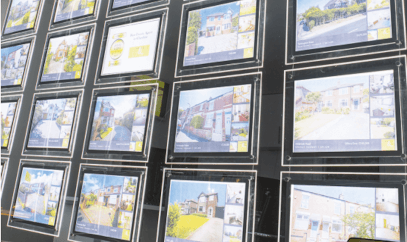 What are LED Displays?
LED displays are graphics that are illuminated with energy saving LED lights. They come in a variety of forms and are a fantastic way to get people looking in your estate agent window. Usually mains powered, LED displays are easily installed and easy to maintain. For estate agents, we highly recommend our LED Ceiling to Floor Cable Poster Kit. With lots of information including images needing to be displayed clearly and professionally, this kit is the essential tool.
What paper do I use in a backlit display?
You can use regular paper in your LED display, however it is recommended that you use Duratrans paper. Duratrans is a photographic image that has a translucent base for backlit LED displays. These inserts create an ultra-sharp image as the material allows just the right amount of light to pass through from behind you artwork.
How do the LED poster kits work?
These poster kits are mains powered and have been built with energy efficient LED lights that create an even distribution of light across your graphic, meaning no more dark spots. The double sided 14mm thick bevelled edge also means the light is reflected, creating an extra bright appearance.
What are standoff posters?
Acrylic standoff signs are posters that are designed to stand slightly away from the wall it is mounted on, which can create a modern and professional look for estate agents offices.
UK POS offers branding services for many of our acrylic standoff signs, meaning that we can add your logo or business name to your sign.
They come in many shapes and sizes to suit the style of your estate agency display.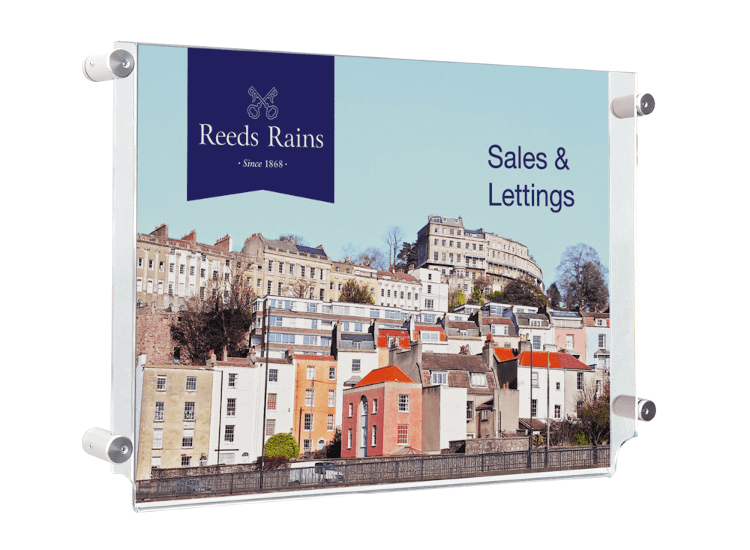 Why do I need LED window displays for estate agents?
Having a professional image portrayed to passing trade is key for business. Introducing LED window display pockets is the perfect way to effortlessly attract not only people already actively looking, but people simply passing by, making them aware of your business for the future. The beauty of an LED display is that it doesn't stop when you stop. Once you have gone home, the lights can be left on so the properties can be seen through the evening and night. This is especially useful in the darker winter months when you will stand out among the surrounding dull shop fronts.
Leaflet holders
Do I need a leaflet holder in my estate agent supplies?
Once you have got your potential customer through the door thanks to your window displays and pavement signs, it is just as important to keep the displays as high quality inside with the correct acrylic display stands and literature holders. Estate agencies typically have advice leaflets on display and it is essential that these are displayed properly as a messy unorganised countertop sends out a negative message about your business.
What is the best type of leaflet dispenser for an estate agent display?
Wall Mounted Leaflet Dispensers are ideal for storing the individual information sheet for each property. This way the person can collect all the information they need themselves and aren't overwhelmed with multiple documents.
Counter Standing Leaflet Holders are ideal for keeping your desks clear and organised. These can be filled with advice leaflets on mortgages, home insurance and Help to Buy schemes.
If you have a rod or cable window display, investing in a Cable Display Leaflet Holder is a great choice, as it allows customers to browse your posters and encourages them to pick up your literature.
Where should I put my leaflets in my estate agent display?
Estate agent leaflets should be displayed in key areas. Information about particular houses should be readily available next to the house advert. Advice leaflets are best positioned on your desk facing where the customer would sit. Have a seating area? Don't just scatter your literature across the table, organise it in a countertop dispenser.
Why are some dispensers cheaper than others?
The cost of the product reflects the quality. For a crystal clear glass like appearance, we use the finest acrylic which will last much longer in terms of scuffs and scratches compared to its cheaper styrene counterpart.
What size leaflet holders do you sell for estate agent display?
We offer a wide variety of sizes including standard paper sizes such as A4, A5 and A6, but we can also produce bespoke orders that fit the requirement of your estate agent supplies. Here at UK POS we also have a variety of colours as well as portrait or landscape options available.
Pavement signs and banners
Why do I need a pavement sign in my estate agent supplies?
Pavement signs are an extremely useful way of making people aware of your business as they are seen by both passing pedestrians and motorists. If you are set back from the road or new to the area, a pavement sign or A board will let people know who you are and where you are.
Do I need an A board or a pavement sign?
While pavement signs and A boards are similar, they do offer separate benefits for your estate agent display:
Pavement signs will have a base that is fillable with water or sand or have a pre-weighted base meaning they are sturdy and durable in poor weather conditions. They also tend to have built in wheels for easy transportation at the end of the day.


A boards only have support from their feet so might not be as stable as a pavement sign, however the built in strut between the two boards adds extra strength. They fold away and are lightweight so can be easily stored and moved around, making them the ideal estate agent supplies for both everyday use and for special events.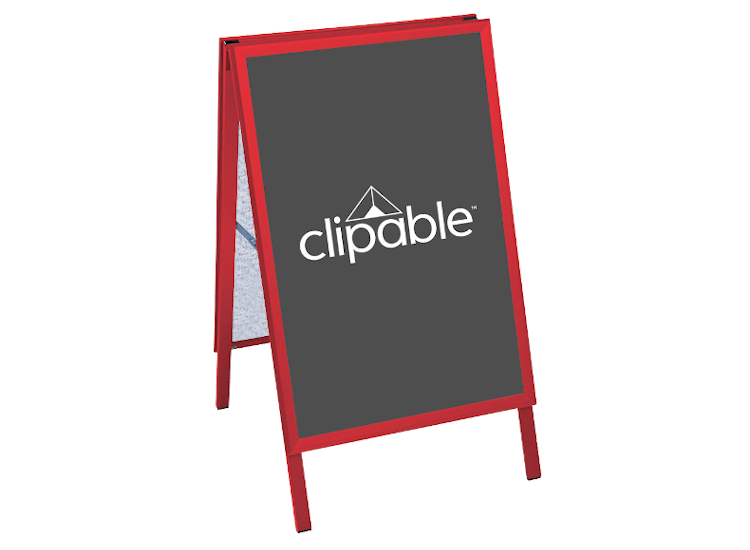 Normal paper can be used, however we recommend using Waterproof Outdoor Poster Paper or PVC based inserts. This way your poster is more likely to stand the test of time. Check out our waterproof posters to see for yourself.
How do I change my estate agent posters?
Both A boards and pavement signs have designs that come complete with a snap frame mechanism, meaning updating your artwork has never been easier. You simply open the clip frame, remove the UV anti-glare PVC protector, slide out your current graphic and slide in your new one.
Do I need planning permission for a pavement sign?
While rules and regulations vary under every council, it is recommended that you let your local council know that you are planning on using a pavement sign to gain their permission. If you ensure that your sign isn't too big for its location, is put away in adverse weather conditions and is kept looking professional and tidy at all times, there should be no problems. For more information on A Boards, sandwich boards, pavement signs, swing boards or whatever you call them, read our exclusive Pavement Signs Guide.