Essential point of sale displays for estate agents
Before you even enter an estate agents you are greeted with numerous opportunities for great displays. From the estate agents window display to the pavement, both of these areas should be utilised with the correct products.
Estate agent windows can be used day or night by having the latest LED displays, whilst A boards can bring in the passing trade.
Once your customer is in, all your paperwork and leaflets should be displayed professionally and orderly to leave a lasting impression.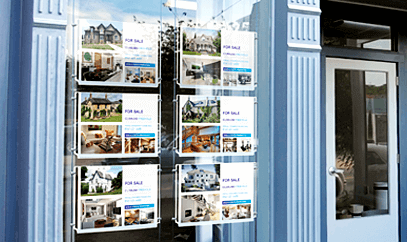 Professional window displays are vital for estate agents.
What is the best window display kit?
Ceiling to Floor Poster Kits are a fantastic addition to any estate agents window as they can clearly display both images and text to passing trade. They will fill your window perfectly without the mess of having to use any adhesive.
Cable and rod window displays are available in a wide range of sizes and poster combinations, allowing you to display multiple properties at once. They are also double sided as standard, meaning that customers can browse your display from both inside and outside of the premises.
If you're looking for something a little simpler, window poster holders quickly attach to the window using either suction cups, adhesive pads or with a static self-cling PVC sleeve. Window poster holders create a lightweight and repositionable display. For a more eye catching estate agency window display, you could also introduce an LED illuminated poster holder or cable kit.
What are LED Displays?
LED displays are graphics that are illuminated with energy saving LED lights. They come in a variety of forms and are a fantastic way to get people looking in your estate agent window. Usually mains powered, LED displays are easily installed and easy to maintain.
For estate agents, we highly recommend our LED Ceiling to Floor Cable Poster Kit. With lots of information including images needing to be displayed clearly and professionally, this kit is the essential tool.
How do they work?
These poster kits are mains powered and have been built with energy efficient LED lights that create an even distribution of light across your graphic, meaning no more dark spots. The double sided 14mm thick bevelled edge also means the light is reflected, creating an extra bright appearance.
What paper do I use in an backlit display?
You can use regular paper in your LED display, however it is recommended that you use Duratrans paper.
Duratrans is a photographic image that has a translucent base for backlit LED displays. These inserts create an ultra-sharp image as the material allows just the right amount of light to pass through from behind you artwork.
Why do I need one?
Having a professional image portrayed to passing trade is key for business. Introducing an LED window display is the perfect way to effortlessly attract not only people already actively looking, but people simply passing by, making them aware of your business for the future.
The beauty of an LED display is that it doesn't stop when you stop. Once you have gone home, the lights can be left on so the properties can be seen through the evening and night. This is especially useful in the darker winter months when you will stand out among the surrounding dull shop fronts.