Essential point of sale displays for cafes
POS can be used in a variety of different ways around your café. From how you display your menus to your opening times to the material of the POS you use, it all matters.
Cafes need to incorporate displays that can be updated frequently, are easy to clean and reflect their brand. This can include menu holders, poster frames or café barrier systems.
Many cafes opt for a more rustic branding featuring wooden POS and chalk boards, whilst others may lean to the more modern acrylic displays.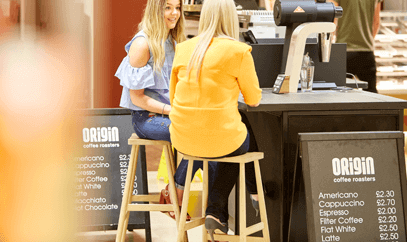 Choose cafe POS displays that are quick to update.
Cafe barrier kits and queue systems
Hospitality accessories

Product displays for cafes

Countertop price displays
From:

£0.99

£0.39

ex. VAT
Café barrier systems
The European culture of sitting outside all year round is slowly spreading across to the UK, so creating an inviting outdoor seating area is crucial. A simple way to do so, is with a Café Barrier System.
Not only does it create a private dining or seating area for your customers, but it is also a great tool for further advertising. Each of the banners can be customised with your brand logo, name or message, so that passing customers know that designated outdoor area belongs to your business.
Indoor queuing barrier systems are just as important in order to maintain a neat and orderly system for your customers. Our barrier systems are able to be extended with as many poles, banners and ropes that you require.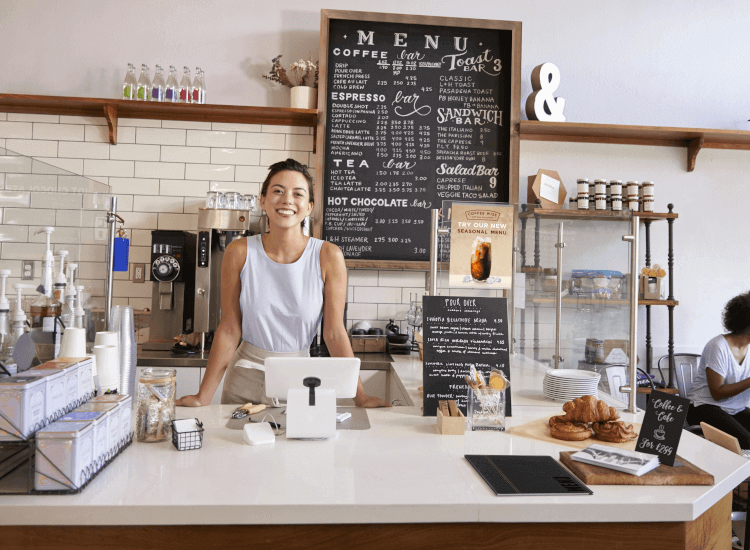 Chalkboards
Chalkboards are a great addition for cafes as they are easy to clean, quick to update and can be changed throughout the day to keep up with your offers. They are also popular in the hospitality industry due to their rustic, almost nostalgic quality, which creates a timeless atmosphere in cafes, pubs and restaurants.
Countertop chalkboards are great for displaying your prices, offers or product names. They will look great behind your counter, by the till or on your guest tables.
Wall mounted chalkboards are ideal for displaying your full menu and prices behind your counter for all your customers to see. You can also display your daily or weekly offers on your wall hung chalkboard.
Price displays
Card holder clips and grips are a great tool for displaying prices for small, individual items on your cafe counter, especially baked goods. We stock card holders with many different fixing options, including magnetic, adhesive, freestanding and clip-on. Some card holders can even be skewered directly through your food products, such as ice cream and muffins.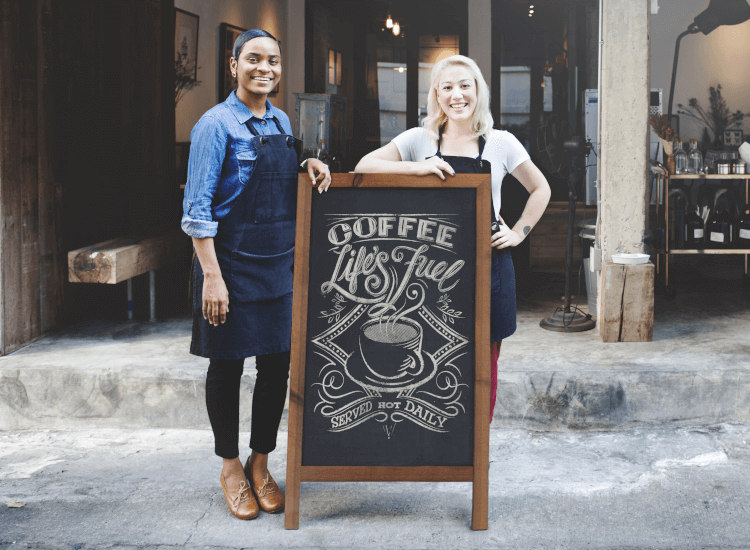 Pavement signs
Pavement signs and a boards are the perfect way to boost your footfall by letting people know what you have on offer today. Pavement signs are available in a variety of styles and materials to suit your brand, location and message.
Chalkboard pavement signs are ideal for cafes, as they can display two messages in a bright and clear manner. They can also be updated quickly for am or pm offers or daily promotions.
Many coffee shops have taken to using a chalkboard pavement sign to write uplifting, inspirational or funny messages to potential customers as they walk past. This is a great tactic to use when trying to create a friendly, laid back atmosphere in your cafe that customers will want to enter.
Product display stands and baskets
Cafe counters have an abundance of tasty treats that deserve to be displayed in the most appealing display possible. Use rustic wicker baskets, wooden crates and dump bins to present your products to customers at the till. Dump bins are great for grab-and-go impulse purchase items, such as bags of crisps and nuts.
Menu holders and covers
All food and drink premises can benefit from a menu holder to help keep their dining, bar or till areas neat and organised.
Menu holders are available in a variety of styles to suit your brand. Simple acrylic bases that your menu slots into are ideal for tidying up your dining tables, while clips and chalkboards are a fun alternative.
Tabletop chalkboards work great on bar or countertops for displaying your soup of the day, sandwich of the week or a fantastic seasonal offer currently going on. They can also work as table numbers.
As well as freestanding tabletop menu holders, you also have the option to use menu covers, in which you can display multiple sheets of your menu. UK POS has many different styles of menu cover available, including the American Style Clear Menu Holder, the Traditional PVC Menu Cover and the Traditional Faux Leather Menu Cover.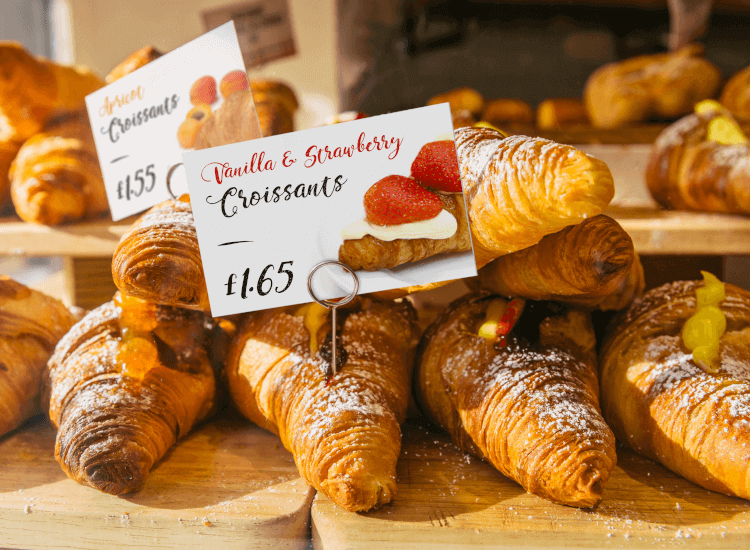 Hospitality and display accessories
There are many POS hospitality and display available that are ideal for the food and drink industry. Many cafes pride themselves on using natural, organic and local produce and a way to enforce your natural ethos is through using natural POS displays.
For your dining areas, store your sauces, cutlery and other essentials in a Wooden Condiment Holder to further enhance your natural and rustic message.
Spreading your brand message through your POS is an easy and cost effective marketing tool. Why not add a touch of luxury to your cafe tables by using a Power Bank Menu Holder? They give your customers a chance to charge their devices while they enjoy their food or drinks, but also gives you the opportunity to display promotional material at the table.
Table numbers and reserved signs are very useful for cafe customers and staff alike, as it keeps customers away from pre-booked areas and gives staff an easy way to match up orders made at the counter with the correct customer.
Window displays
Displaying posters in your shop front window is vital, as even when you're closed passing customers can still find the information they need.
Use window poster holders and signage to display opening times, upcoming events, current offers or local business news. A busy and inviting window display is a great way to attract both old and new custom.