A boards and sandwich boards
Where are A boards used?
A boards are a great way to advertise your business outdoors and increase footfall, or for promoting offers and displaying information indoors. They are also ideal for use in educational or community facilities to share notices or event details.
What type of A board is right for my business?
The style of A board you choose should depend on your business branding and theme, although we do supply A board options to suit all budgets.
Look at other businesses for inspiration and see what they use, and compare them to your own business needs. For example, a fast food style outlet may wish to use a silver A board as they present a clean and modern finish, however a cafe or health food store may wish to use an A board with a wooden frame or a chalkboard to promote a more rustic, homely impression.
For a versatile option, a double sided Snap Frame Wooden Chalk A Board gives you the option of either displaying a chalkboard sign, a printed poster, or both - one on each side.
Can I get my A board with branding?
For a branded option, our Rounded A Board with Magnetic Cover has a header space that is available either with or without custom branding. This is the most robust option of all of our A boards, featuring a steel back panel and a magnetic front cover to securely grip your poster, and it is suitable for use outdoors providing that is is used with waterproof posters.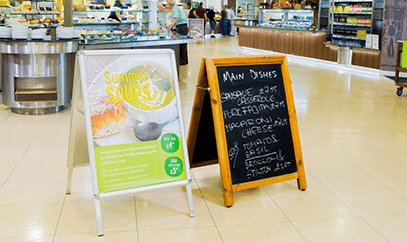 A boards and sandwich boards buying guide
Sandwich Boards and A Boards bring in passing trade.
Do you supply digital A board signage?
Our Digital A Board makes an attractive freestanding display that can be programmed to display images and graphics (or both via split screen function). Digital advertising screens grab attention far more effectively than printed graphics do, and this sturdy freestanding Digital A Board adds a superior feel to lobbies, shopping malls and exhibitions. With its bright LCD display this digital advertising stand will catch the eye of customers and visitors, even from far away.
How should I update my A board signs?
If you are using a chalkboard A board, we recommend decorating with our liquid chalk pens, which are available in a wide range of attractive colours and water resistant within an hour. When using the A board with posters, it is best to use semi rigid waterproof posters to prevent crinkling. Ensure your signs have a clear, legible font so as not to confuse shoppers.