A Boards and Pavement Signs
A Boards and Pavement Signs
What are A Boards and Pavement Signs used for?
Pavement signs and A boards are designed to display offers and information as well as to attract passing custom. Outdoor signage is perfect for use in busy high streets and shopping centres, or for businesses which are set back from the main road to help draw in shoppers.
How many types of pavement signs are there?
At UK POS we recognise the value of pavement advertising boards. That's why we stock a large variety of high quality A boards and pavement swinger signs to suit every budget, ensuring you can choose signage that is perfect for your business and industry type. Chalkboard A boards are easy to update and allow staff members to excericse some creativity. They are very popular for use in cafes, restaurants and community spaces.
We supply many forms of signage for displaying your printed posters outdoors or around shopping centres, ranging from a lightweight budget A board, to heavy duty and weatherproof pavement signs. These are normally designed with an easy to use snap frame or click frame, which allows you to quickly clip your posters firmly in place, protected by poster covers.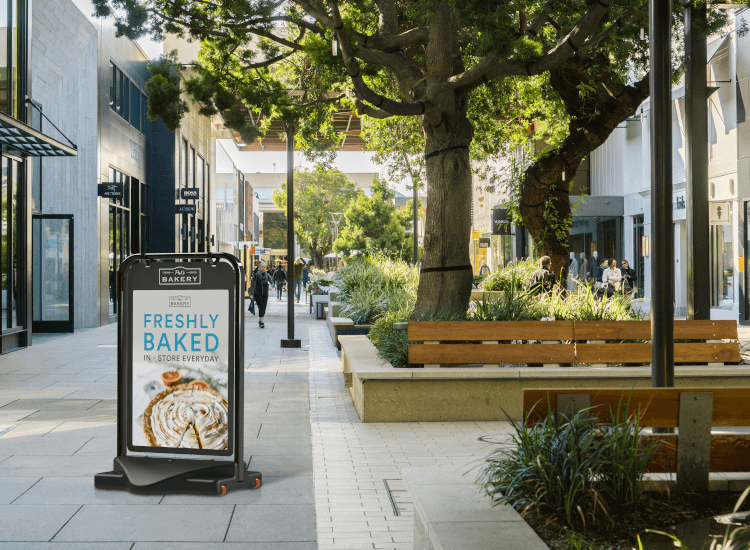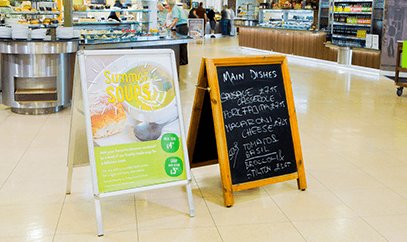 Advertising using an A board or pavement sign is ideal for attracting passing customers and promoting offers.
Can I get custom printed pavement signs?
The swinger panels and most of our pavement signs are able to be branded with your bespoke artwork. We can also print semi-rigid waterproof posters with your customised graphics, and these are recommended for use if you are planning on using your A board outdoors.
Can I get replacement parts for my existing pavement signs and A boards?
Yes, if your pavement swinger requires a new swinger panel, or replacement poster protectors, these can be dispatched from us for fast delivery. We can have these printed and branded, so you can update your point of sale whenever it needs to be refreshed.
We also supply a number of compatible accessories for pavement signage, such as our Outdoor A Board Leaflet Holder, which allows you to display compatible leaflets and brochures directly from your sign. Chalkboard signs can be updated using liquid chalk pens, which are available from UK POS in a range of exciting colours, including metallic, fluorescent and earthy tones (and can be easily wiped clean using our chalkboard eraser).