Notice boards, flip charts and whiteboards buying guide
Information boards, flip charts, whiteboards and notice boards are a great accessory for many industries, from hospitals and schools to offices and events.
Use them to communicate with your staff, customers, students or visitors depending on where and how you choose to display them.
Available in a variety of styles and colours, we have a noticeboard, whiteboard or flip chart for you.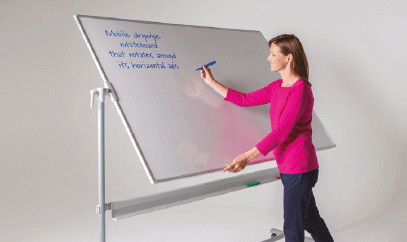 Notice boards, whiteboards and flip charts are a useful accessory across a range of industries.
Notice boards, flip charts and whiteboards
Cork notice boards
A cork noticeboard is a classic style with simple functionality. A cork notice board is perfect for use in staff rooms to display safety notices, rotas or other useful company news.
The best way to attach announcements to your cork board is with standard noticeboard pins.
Felt noticeboards
Similar to the cork boards, felt notice boards are a simple way to display announcements around your business. Using pins, paper notices can be mounted instantly and replaced in seconds.
One benefit of a felt notice board is the addition of colour. We provide blue, grey and red felt options which can add a pop of colour to an otherwise dull meeting room or corridor.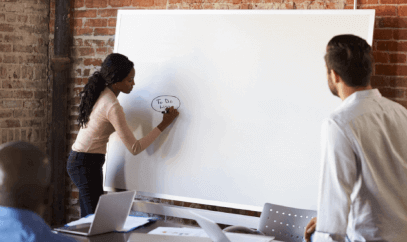 Whiteboards
Another popular accessory for the education sector and offices is the traditional whiteboard. Its popularity comes from its easy cleaning, easy using and easy mounting features.
Write directly onto your board with whiteboard pens or attach paper notices using whiteboard magnets.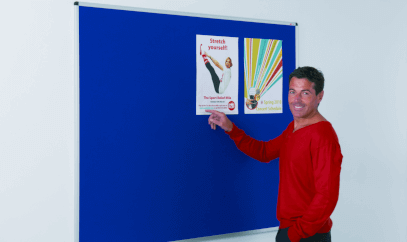 Lockable notice boards
If you are displaying important posters or using the frame in an area where they might be vandalised, a tamper resistant notice board is the best way to avoid wrongdoing. This tamper resistant option is ideal for community noticeboards and office noticeboards.
The aluminium frames are secured with two key operated locks for use on your preferred side.
Frameless notice boards
Frameless notice boards are great for creating a larger, more decorative display, as they can be pushed right up against eachother. They are available in blue or grey, so you even alternate for a two tone effect.
Our frameless notice boards are also fire resistant to BS EN 13501-1. These regulations are there to reassure you that the product is a safe choice for public buildings, making them perfect for use as office noticeboards and community noticeboards.
Flip charts
A favourite among schools and offices, a flip chart is a great way to communicate your message. Available with a paper flip chart and/or with a whiteboard base, this versatile display tool is a great addition to many schools, offices and the healthcare sector.