Magazine stands and racks buying guide
Whether you are using them to dispense magazines, newspapers, brochures, catalogues or leaflets, a magazine stand or rack can help you present publications at their best and increase the likelihood for customers to pick them up.
We stock a wide range of racks that are suitable for dispensing single publications or small selections of magazines. Our floor standing magazine stands are ideal positioned in areas with high footfall, such as near the entrance or by your tills, as well as counter standing options for placing on accessible surfaces.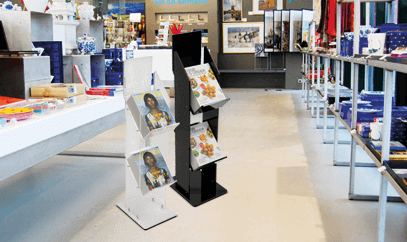 The right magazine stand will boost chances of browsing.
Why should I use a magazine rack?
A magazine rack is the best way to merchandise magazines, catalogues or brochures to customers.
Not only will it keep your magazines in excellent condition, it will also draw customers' attention to them and allows you to place them strategically within your store to maximise the chances of them being picked up and purchased or taken away.
What options are available for merchandising magazines?
There are two main options: floor standing and counter standing, but you might want to consider a wall mounted leaflet dispenser for some situations.
The different models available can either hold a single title or up to six. For faster moving publications some units also have a high capacity, which means you'll need to refill them far less often.
Others are best suited to showcasing magazines with a lower sell through.
Our Two Tier Magazine Stand (MAG2) is a really popular floor standing magazine dispenser for shops and other businesses.
Where in the store should I place my stand?
Areas of high footfall and customer traffic are the obvious choice. You'll often find stands placed near the entrance or near the checkouts, as their low cost means they're likely to be considered as an impulse buy by customers, which is great for increasing your average order value.
If you've got plenty of counter space, then a counter top stand is a great way to show off magazines and catalogues. It can also create a talking point, which can make it easier for staff to upsell customers, too.
What size magazines will they hold?
Most of our stands and catalogue dispensers are designed for standard A4 sized magazines, however publications vary slightly in their dimensions, so we'd advise checking the dimensions before you order.
How many magazines will they hold?
The capacity depends on the stand or rack you buy and the thickness of the magazine. Higher capacity stands, such as our floor standing foamex magazine stand (which is available with bespoke branding), are better suited to larger volumes of a single magazine or catalogue.
If you're promoting slower selling publications then a Magazine Stand or magazine rack with smaller capacity tiers should suffice, or you can just replenish the stocks more regularly as customers buy them.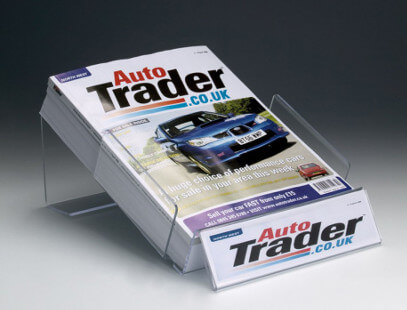 Counter standing magazine dispensers are a great way to get extra sales at the checkout.
How can I draw attention to particular magazines?
Using a stand or rack which includes a header card is a good idea to draw attention to a particular title.
A number of counter standing and floor standing magazine racks and dispensers include header cards allowing you to insert a poster or brand logo into the stand to make it more eye catching.
If you've got plenty of floor space and want to draw attention to a single title, our FD61 Freestanding Leaflet Display is a great choice.
This floor standing unit can dispense either two or four A4 magazines, brochures or leaflets and is available in double or single sided versions with a massive A1 header snap frame to take a giant sized promotional image of the magazine.
If you are looking for a modern, professional way to display brochures in a public setting, then our Freestanding Digital Signage with Brochure Holder could be exactly what you need. Display eye-catching images and video advertisements on the screen to encourage customers to pick up a brochure from the holders beneath.
Are any of them portable?
Yes, our Collapsible Leaflet Holder/Dispenser (FD80) is portable and includes a collapsible carry case for easy transportation, making it ideal for taking to events and exhibitions.
It is double-sided and can take up to small volumes of six different magazines or brochures in A4 format. If you need a smaller capacity, the FD85 Collapsible Leaflet Dispenser can hold five different A4 leaflets, magazines or brochures.
Our Collapsible Leaflet Dispenser (FD85) can hold five different magazines and is quick and easy to set up, making it ideal for exhibitions and conferences.