Outdoor dining ideas for restaurant reopening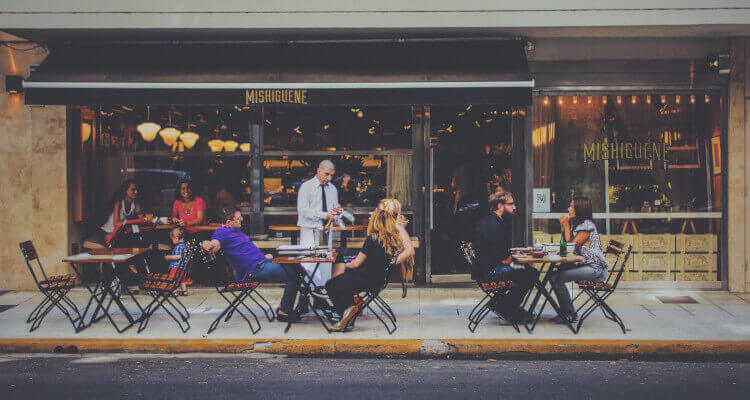 Restaurant and cafe exterior design ideas for outdoor dining
The hospitality industry has been one of the hardest-hit sectors following the coronavirus pandemic [1]. Between the fluctuating national restrictions and social distancing guidelines, visitors have dropped off and businesses have struggled. Now that we're on our way out of lockdown, however, businesses are able to plan exciting new ways of running once they reopen and take steps back to normality later in the year.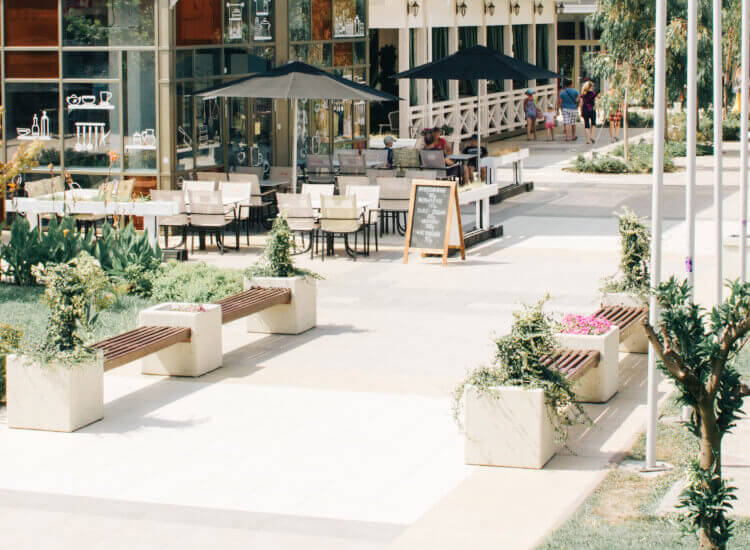 Government guidance for hospitality in 2020 encouraged the use of outdoor areas for service [2], and they relaxed the licensing regulations for outdoor seating to allow for this [3]. Many shopping streets gained temporary pedestrianisation permits to provide outdoor dining space for restaurants, such as in London's Soho and Manchester's Northern Quarter, making this a trendy and exciting option.
The emphasis on outdoor dining will continue through for most of 2021, with outdoor eating and drinking now allowed again and indoor hospitality hoping to follow soon afterwards [4]. Why not take this push towards al fresco dining as a chance to revitalise your restaurant, cafe or bar, and give it a new lease of life? With the right outdoor dining supplies and signage for outdoor restaurant table tops, you can use this relaunch opportunity to your advantage and really make the most of the warmer months.
Post-lockdown restaurant reopening supplies
Why introduce an al fresco dining area to my restaurant or café exterior?
Al fresco dining helps restaurants, bars and cafes to remain open safely post-lockdown, keeping staff and customers safer while helping to maintain the economy.
Restaurants can capitalise on the festive vibe that outdoor dining provides. When a restaurant has guests eating outside, passing pedestrians can get a feel for the atmosphere and energy of a venue without even needing to see the interior.
Al fresco dining for restaurants is particularly popular in summer, with many guests preferring to enjoy the sunshine and fresh air than being stuck indoors. This is likely to be truer than ever, post-lockdown.
Outdoor dining has a casual, festive feel that is particularly loved by 25-34 year olds. Millenials are the ideal target market for outdoor dining, so it is important to cater to their needs and wants.
In fact, a study conducted by Study Hall Research for FSR found that 43 percent of diners in this age bracket claimed that they 'spent more money on alcohol when dining outdoors', and that the amount they spent would also increase with 'the presence of an outdoor bar' [5].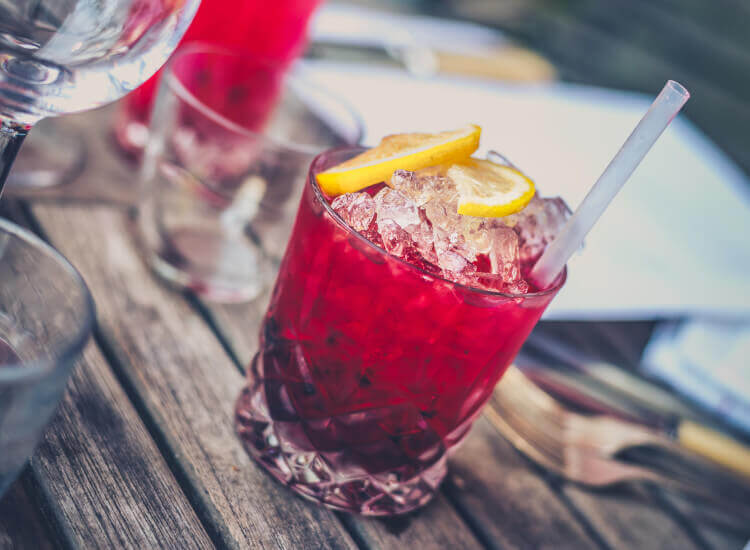 Research suggests that millennials spend more on alcohol when dining outdoors.
In 2016, research by the UK-based company BigHospitality claims to have found that up to 79 percent of respondents would increase their dwell time if table service was al fresco [6]. Therefore, with good table service, introducing street dining to your business could be not only safer following the pandemic, but potentially more enjoyable for your customers overall and, therefore, more profitable.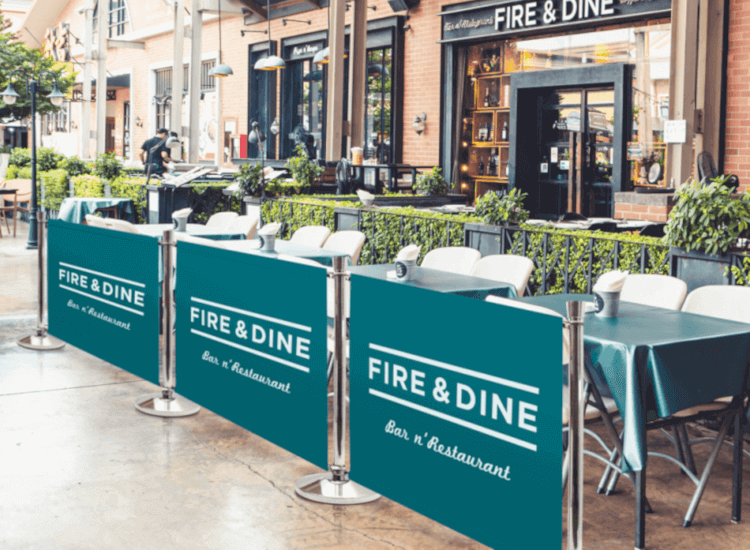 How to create an outdoor seating area for your restaurant, bar or cafe.
When developing ideas for your outdoor seating areas, firstly you need to define the area of space you are using (of course, you will need to check your local regulations to ensure you are adhering to any requirements). An ideal way to do this is with the use of outdoor cafe barriers. These have always been a popular way to create outdoor seating for cafes, however they are also ideal for any other venue with an outdoor area.
Outdoor café barriers help to create a boundary between guests and the street, while simultaneously providing an extended advertising opportunity that will be seen by everyone who walks past. You can get your restaurant outdoor dividers supplied with custom printed banners to represent your brand.
Another option to create an al fresco dining border is to use artificial hedge panels. You can always use real plants and planters, if you wish, but that tends to be a more expensive and high-maintenance option than using an artificial restaurant hedge. Faux hedges for cafes and restaurants are easy to move and clean, as well as providing a fresh and natural look which will complement your al fresco dining experience beautifully.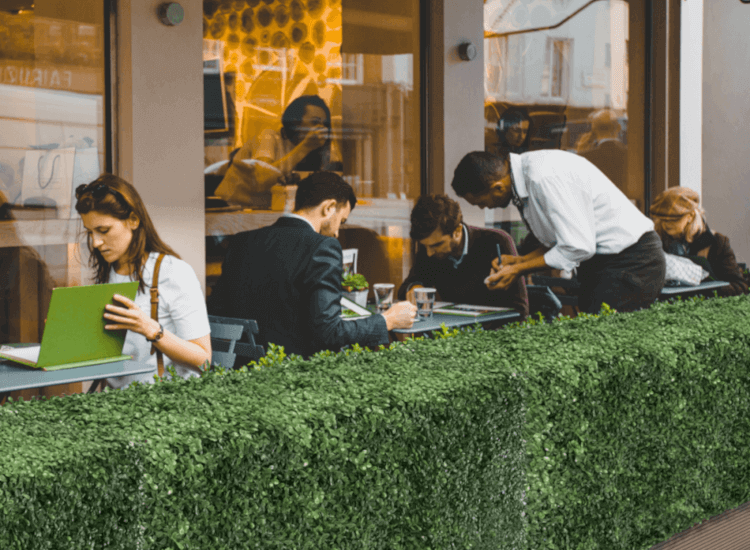 For very small businesses without the funds to invest in bespoke barriers, they may be able to find upcycling options, such as spray painting old planters, fence panels or road barriers by hand. Alternatively, a simple rope or chain barrier will often suffice.
Supplies for outdoor restaurant table tops
Protecting your restaurant and bar staff from infection
Use face coverings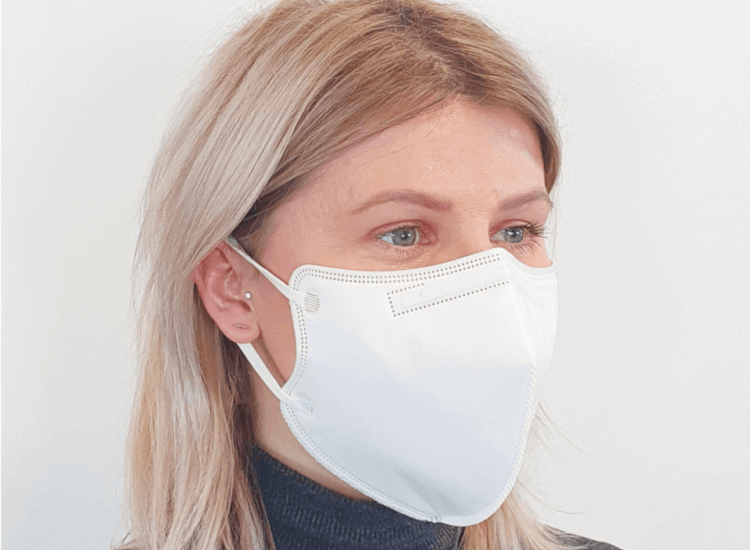 Since the COVID-19 pandemic, restaurant owners have been forced to consider hygiene practices more than ever before, with front of house service being a priority concern.
It's now mandatory to wear face coverings in most public areas. Servers and cashiers in particular may wish to wear plastic face shields or respirator masks while working with the public. Businesses can buy these in bulk to provide for all staff.
Use sneeze screens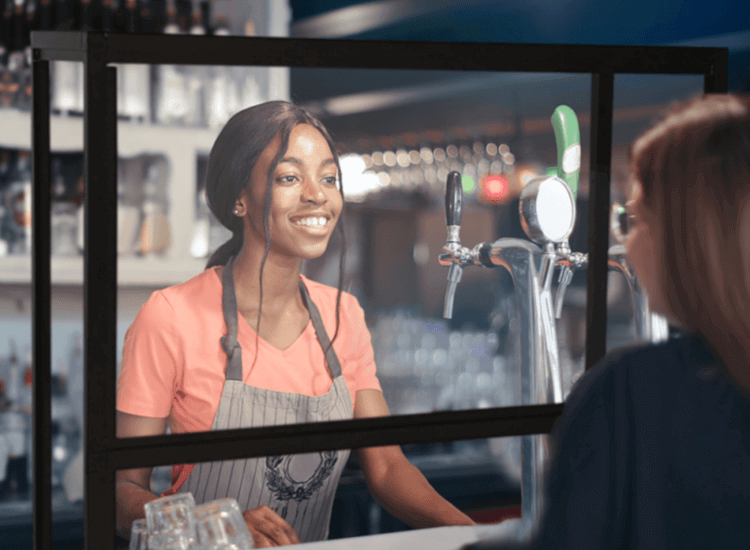 Ideally, you will provide table service to outdoor diners and take payments at the tables. Where this is not possible, cashiers and food counters may wish to install sneeze screens for checkouts, following the recommendations for 'using screens or barriers' [7].
Checkout sneeze shields are available for a range of businesses and budgets, ranging from low cost freestanding options, to more heavy duty counter fixing varieties.
Use signs and posters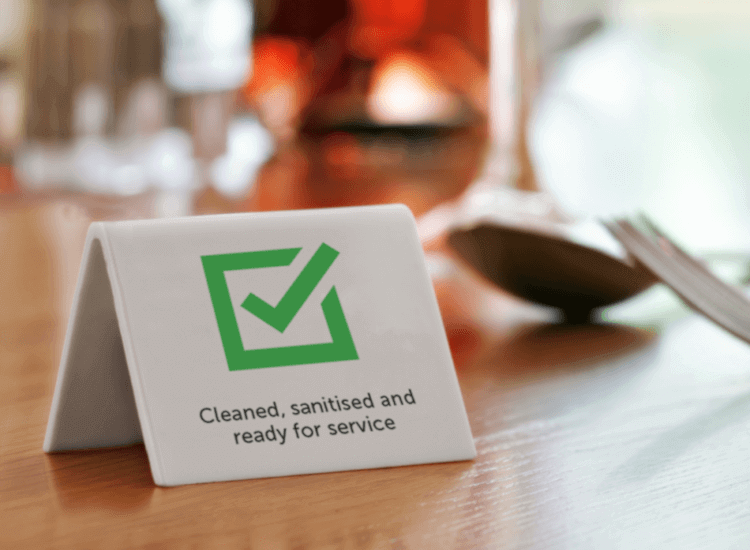 Another hygiene solution for table service is to use acrylic 'table cleaned' signs. This makes life easier for your staff and reassures customers about your hygiene practices.
If your venue has a one-way system, or accessible toilets, you may wish to use some social distancing signage, such as floor signs, wall posters and 'wash your hands' reminders, as well as incorporating hand sanitiser stations, as per the government guidelines.
Make your restaurant or cafe exterior stand out from the crowd
With many food and drink venues now figuring out new ways to bring their business outdoors, why not add some special extra details to make your dining experience stand out in the new restaurant landscape?
One idea for this is having live music performances, if/when this becomes permitted in your area. Musicians or DJ's can be separated from diners and even placed behind a transparent screen for added virus protection. Having live music outside your restaurant or café has the added benefit of supporting local musicians at a time when bookings for live gigs may be few and far between, and will likely draw in the type of crowd that wants to support local artists and businesses such as yours. If this is not possible, there are many other forms of live performance which may be permitted, such as stand-up comedy, dance, and even live painters.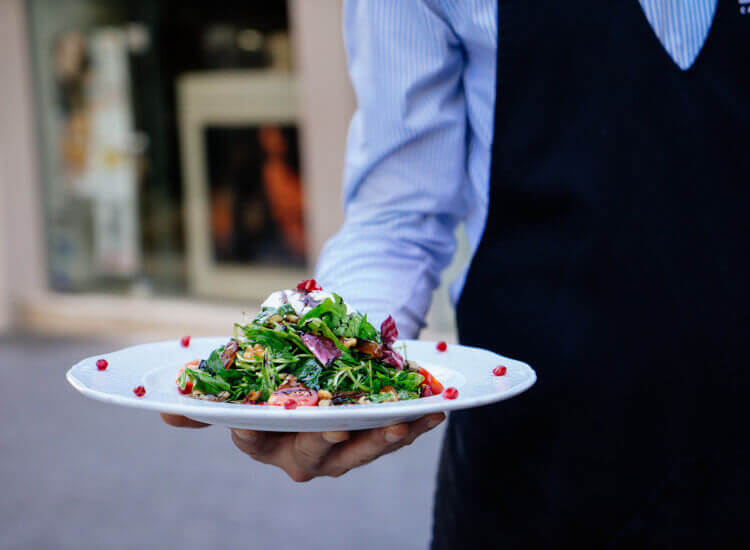 It's a commonly-held belief that food tastes better when eaten outdoors.
Opening up your food or drink business to include entertainment could see your profits increase exponentially, particularly while people are hungry for both fresh food and live entertainment.
Another option to enhance the al fresco dining experience is having bar staff or chefs working outside, mixing cocktails or cooking on a barbecue. This creates an exciting spectacle that your guests will love and that will draw in plenty of positive attention from passersby.
Introducing al fresco style dining to your restaurant can have a great influence on passing pedestrians. Not only can they see other diners enjoying the attractive, casual ambience, but they are more likely to be exposed to pleasant sensory cues, such as the sounds and smells of cooking. Various studies have demonstrated the relationship between sensory cues from food vendors and impulsive food buying in customers, proving that these cues can inspire hunger, desire and positive emotions in people [8]. Bringing these positive sensory characteristics out into the open air gives you a chance to influence a higher number of people to visit your restaurant or cafe.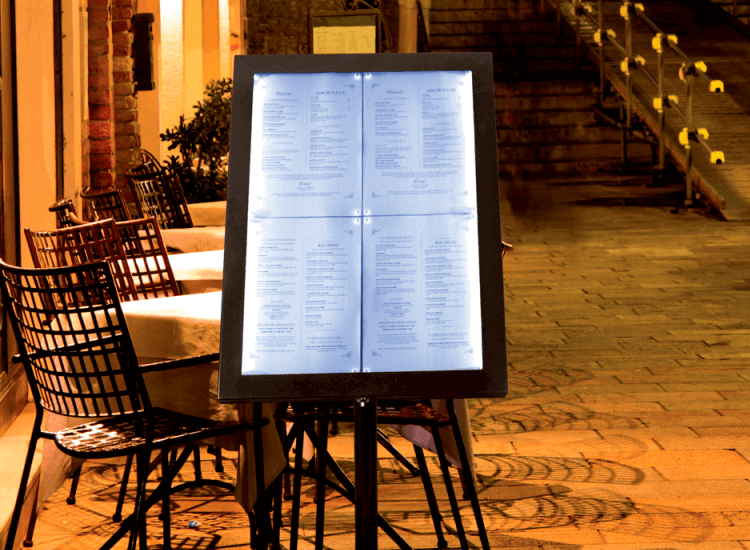 Enhance the ambience of your restaurant or cafe exterior in darker hours by putting out candles on tables, adding fairy lights to awnings and using illuminated menu displays for walls or an LED menu stand to create a soft and inviting glow.
Placing menus on tables is currently being discouraged in favour of reduced-contact means, so you might wish to use single-use disposable paper menus, freestanding menu holders or wall fixed varieties to prevent them from being handled [9].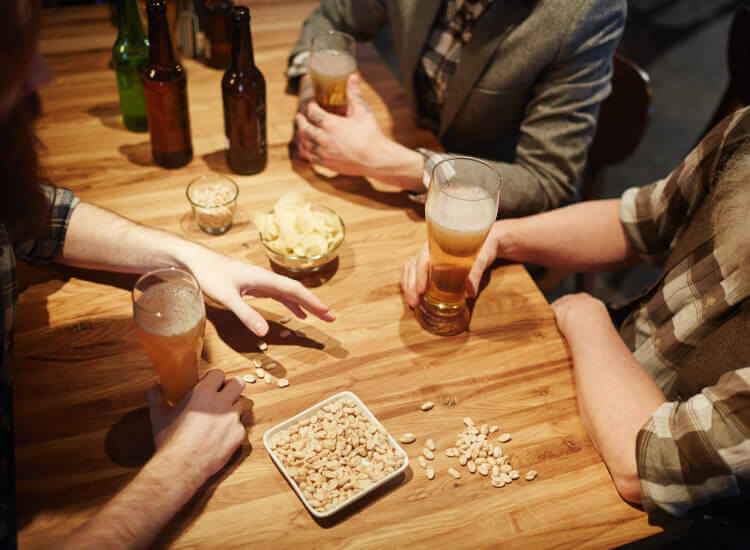 Adding small extras to your customer's outdoor dining experience will make a big difference. In a secure seating area, consider placing phone charging menu holders on covered tables for customer use (and clean these often).
Give them free snacks to nibble on while ordering, like pretzels or olives. This low-cost addition will enhance the comfort and pleasure of the guests at your new al fresco restaurant, making them more likely to return and to tell their friends.
How to advertise your restaurant reopening and promote your new al fresco dining area
TV and radio advertising is a great choice if your budget extends to it, as you can reach people in their homes to let them know about your reopening or new services. Alternatively, online advertising has a huge reach, so you will want to keep customers informed via social media. If you have previous customer's email addresses, such as if they have signed up for a mailing list or loyalty scheme, reach out with an email update to let them know you're ready to take their orders. Back up your relaunch with "we are open" signage outside, so that everybody knows you're back in business.
Make sure your relaunch or new al fresco service is boosted by introducing some meal and drinks promotions, even if it's just a discount off their next visit or a new loyalty card. It may seem counterproductive to offer discounts when your business may just be getting back on its feet, however these promotions are what prompt customers to come and visit you and to spend more. Advertise these on pavement signs outside your business to inform and encourage potential guests, as well as on wall and table signs.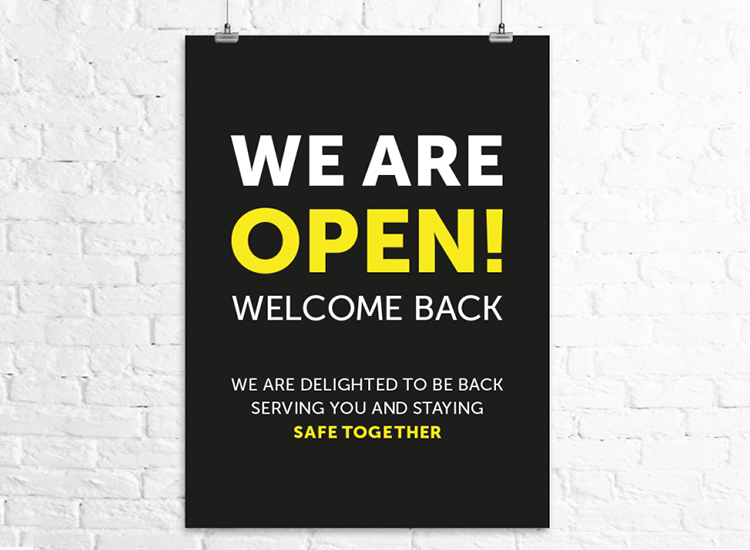 You may also wish to display some COVID-19 posters for businesses, to inform customers about any new safety measures or hygiene procedures that you've introduced, and to ask them to refrain from entering if they are displaying any virus symptoms.
This will ensure that restaurant guests adhere to protocol, and feel reassured by your commitment to hygiene and social distancing practices.
If your venue is in an interesting or trendy location, then your street dining service could really capitalise on this. Does your restaurant overlook a river, park or historical monument? Mention this as a bonus factor when advertising your al fresco seating area. Is your café exterior set in a busy high street? Highlight the abundant people-watching opportunities, as well as your close proximity to the shops and other attractions.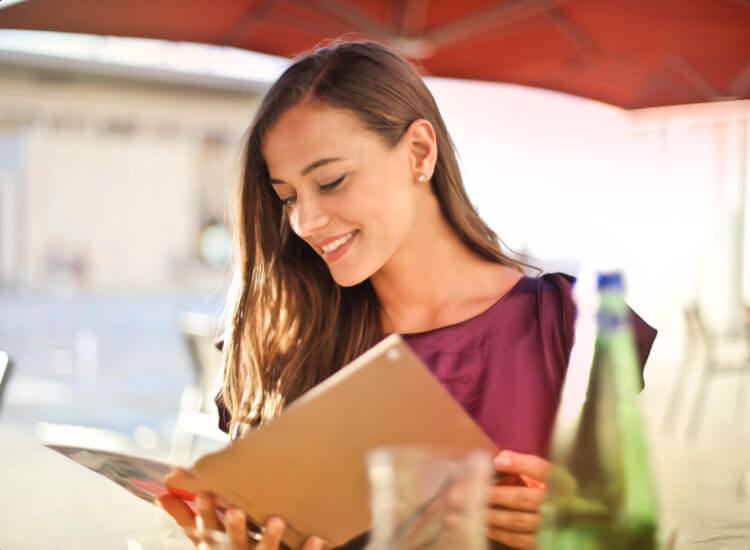 More tips for reopening restaurants after lockdown:
Invest in a range of social distancing products for restaurants to ensure staff and customers feel safer eating and working in a restaurant during covid.
Place transparent hygiene screens between tables.
Carry out workplace risk assessments before opening, and keep track of staff shift patterns in case of future outbreaks.
Try introducing pre-ordering and pre-assigned tables to reduce contact and wait times.
Pre-empt any queueing issues and invest in a queue management system.
Use social distancing signage and hand washing reminder posters as per the guidelines.
Install hand sanitiser stations in high-traffic areas.
For more inspiration on advertising your restaurant, check out our article on how to promote your restaurant, or navigate here for a detailed guide to signage and supplies for pubs and bars.
Please note that this information was correct at the time of publication. We recommend checking gov.uk to ensure the guidance you use is up to date.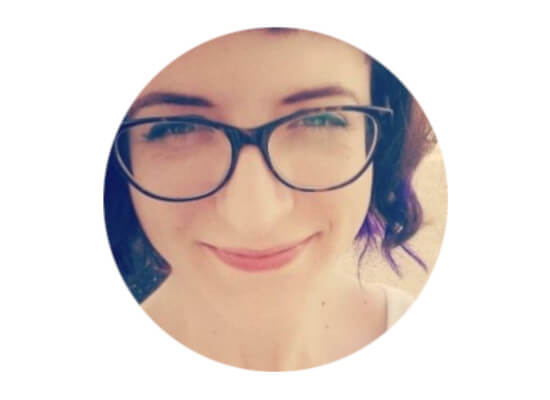 Kira Swales
Kira Swales is a copywriter for UK POS. With over six years' experience in e-commerce and copywriting, and many years in the retail sector, Kira loves to take a deep dive into topics in order to provide readers with the latest research in point of sale and merchandising. Read more of her in-depth guides on POS in our
Knowledge Hub
.
References
1. Georgina Hutton and Niamh Foley, 'Briefing paper: Hospitality industry and Covid-19' (8th January 2021), House of Commons Library, https://commonslibrary.parliament.uk/research-briefings/cbp-9111/ [accessed 8th March 2021].
2. Department for Business, Energy & Industrial Strategy and Department for Digital, Culture, Media & Sport, 'Guidance for people who work in or run restaurants, pubs, bars, cafes or takeaways' (2020), https://www.gov.uk/guidance/working-safely-during-coronavirus-covid-19/restaurants-offering-takeaway-or-delivery [accessed 14 July 2020].
3. Ministry of Housing, Communities & Local Government, Department for Business, Energy & Industrial Strategy, Department for Transport, The Rt Hon Alok Sharma MP, The Rt Hon Grant Shapps MP, and The Rt Hon Robert Jenrick MP, 'Government outlines support for pubs, cafes and restaurants' (25 June 2020), https://www.gov.uk/government/news/government-outlines-support-for-pubs-cafes-and-restaurants [accessed 14 July 2020].
4. Cabinet Office, 'COVID-19 Response - Spring 2021' (22nd February 2021), https://www.gov.uk/government/publications/covid-19-response-spring-2021 [accessed 8 March 2021].
5. Smith, Daniel P., 'An Inside Look at Outdoor Dining', https://www.fsrmagazine.com/inside-look-outdoor-dining [accessed 14 July 2020].
6. Pike, Steven, '10 Tips for Successful Al Fresco Dining', Big Hospitality, 19 June 2016, https://www.bighospitality.co.uk/Article/2016/06/20/10-tips-for-successful-al-fresco-dining [accessed 14 July 2020].
7. UKHospitality, 'COVID-19 Secure advice and risk assessments for hospitality businesses' (2020), https://www.ukhospitality.org.uk/page/UKHospitalityGuidanceforHospitality [accessed 14 July 2020].
8. Choi, J., 'Consumer impulse buying of food at festivals and events: Understanding the role of sensory cues' (Unpublished doctorate thesis), 2016, Kansas State University, Manhattan, Kansas.
9. Jordan, Anna, 'How to reopen your restaurant, pub or hotel post-lockdown', Small Business (2020), https://smallbusiness.co.uk/how-to-reopen-your-restaurant-pub-or-hotel-post-lockdown-2550389/ [accessed 14 July 2020].