January Sales display guide for retailers
January can be a quiet month for many businesses, but promoting your offers or promotions properly can have a great impact on your sales and footfall. Introduce A boards, poster frames, dump bins and shelf talkers to help drive sales and make your seasonal offers stand out. Our exclusive January Sales display guide is a must read for any retailer heading into the new year looking to beat the January blues.
How can I increase sales in January?
1. Use snap frames to display key information
Snap Frames are a must have for displaying opening times, extended return policies and general store information. Whilst they are great for busy periods such as the January sales, they are an investment piece that can be used all year round.
A snap frame poster is ideal for regular promotional updates, as the simple front opening mechanism makes poster changes quick and easy.
Available in a variety of colours, there will be a snap frame or poster case to suit your brand.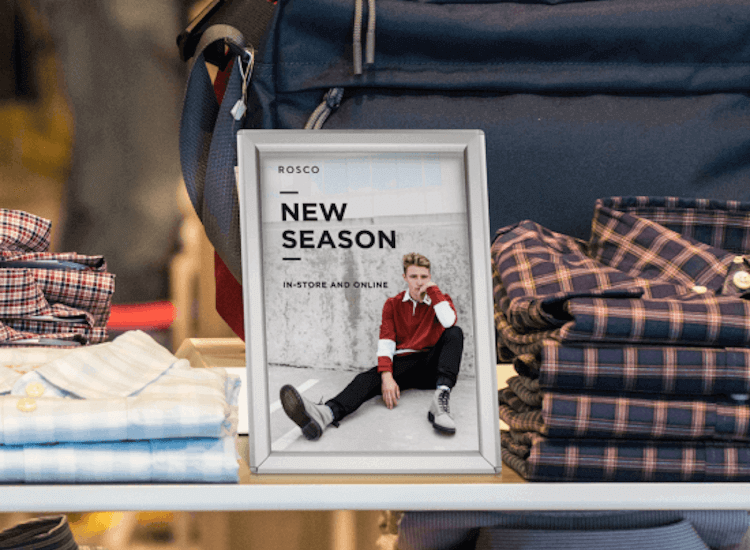 2. Use suspended posters to save floor space
Large department stores and supermarkets can benefit from suspended posters. Displaying a poster from your ceiling will make certain areas of your stores stand out easily to customers and are a great way to utilise space.
3. Use shelf edge displays to display product information
Shelf talkers are the perfect way to make your retail shelves stand out, look organised and promote your products for you. Utilise your shelf edges to display prices, barcodes, product spec and seasonal promotions.

4. Use show card stands to promote larger sale items
Showcard stands are great for pricing or promoting larger items on floor stacked displays. Available in a variety of colours and styles, they can be used outside for garden centres or indoor for household products.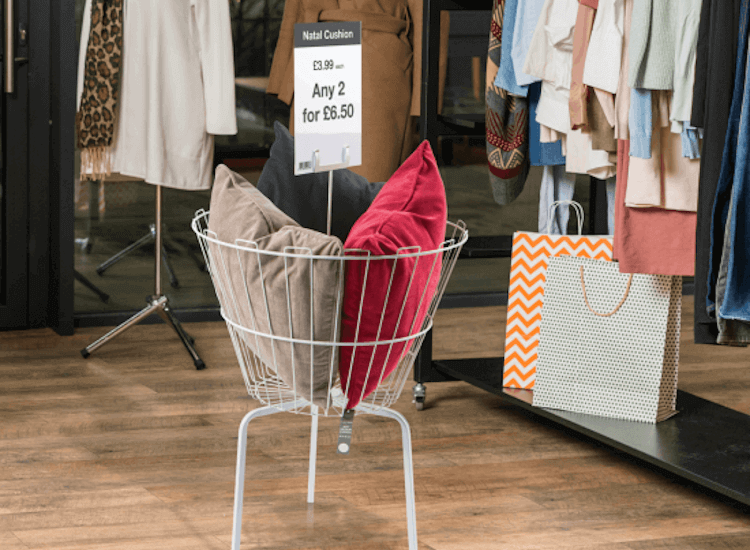 5. Use dump bins to display low value items in high footfall areas
Shoppers will be looking for a bargain, and dump bins are perfect for displaying low value items around your store to encourage people to purchase.
Use larger dump bins in your aisles which will force people to walk around your shop using your preferred route. This way they will see more of your January sales and be inclined to make impulse purchases. Smaller counter top dump bins can be used by your tills for smaller items that people are likely to add to their basket whilst they wait, increasing your AOV.
6. Use pavement signs to attract passersby into your store
Throughout January, many people will be feeling the pinch after an expensive festive season, so getting people into your store is a little more challenging than usual. Introducing a pavement sign or A board to your outdoor area can help boost your footfall. Whether it is your pavement, forecourt or car park, the double sided outdoor advertising that a pavement sign provides is unbeatable. You can attract the attention of passing pedestrians and motorists to draw them into your store with your offers.

7. Use window displays to showcase your best deals
Keep your opening times, contact details and in-store deals clearly displayed in your window with window poster holders; a simple and cost effective way to attract the passing trade. Chalkboard window displays are well suited to businesses that have a rustic feel or a long, storied history, while plastic window poster holders are great for modern, high street stores that want to display their best deals, rather than a focus on brand identity.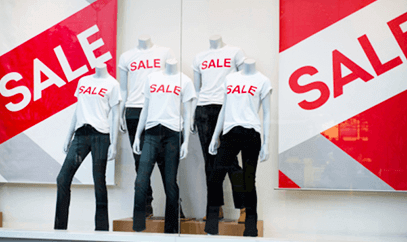 Update your POS in time for your in-store January Sales.