Gridwall buying guide
Gridwall is a wonderfully versatile merchandising aid that can be configured as a free standing unit or wall mounted to create an effective main wall.
All our gridwall systems come in a modern chrome finish that will suit any display. With a wide range of mesh panels, shelves, supports and accessories, you can fully customise your event or retail display.
Create a power wall at an exhibition or merchandise a range of clothes and accessories for improved sales and brand recognition.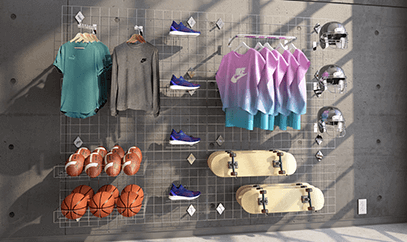 Save wall and floor space with our range of gridwall
Why should I use gridwall?
Gridwall is a system consisting of steel panels with 7cm x 7cm mesh squares and a range of component parts and accessories which allow you to easily mount it to a store wall, or create a free standing floor display.
Gridwall is an incredibly versatile, durable and cost-effective display solution to help save space in your warehouse or storage room while maximising your retail or event space. It can be used in myriad ways to best suit your display needs.
What matters most is that customers can clearly see what you have on offer, and gridwall is ideal for displaying items of different shapes and sizes without wasting vital wall or floor space.
What gridwall products do you offer?
We have a variety of mesh panels, bases, shelves, hooks and accessories to fit your display needs.
We stock gridwall panels from 4ft to 8ft in size. Our range of gridwall accessories can be mixed and matched to kit out your wall mounted or free standing display.
Create a mobile, lightweight and free standing gridwall unit with our three way gridwall bases or four way gridwall bases. As gridwall is easy to assemble and take down, this is perfect for travelling to different events or exhibitions.
For retailers and store owners, we provide a wide range of gridwall hooks and shelves to customise your display. Straight shelves, inclined shelves, corner shelves, basket shelves, shirt and shoe shelves can all be found on our website.
Our gridwall products can be easily constructed to make a display of assorted sizes to ensure your customers get the best possible product and brand visibility.
What products can I include on a gridwall retail display?
Depending on the space you have available, gridwall displays are fairly limitless. Mix and match panels with shelves and hooks to make the most of your merchandise.
In retail, gridwall can be used to place similar products together. Perhaps make your own power wall with clothes, shoes and accessories, or create a wall mounted display to put your hardware products in one place to make browsing simpler for customers.
Alternately, you can use it to show off your expanding product inventory or promote discounted sale items to boost AOV at the tillpoint.
Even at exhibitions or trade shows you can be as creative as you wish by employing different gridwall panels and accompanying accessories to hold your products and make them stand out.
What are the benefits of gridwall?
As a shop display option it can be used almost anywhere to design a free standing or wall mounted display area.
If you are looking to increase your floor space instore this is a great solution. It prevents your area from seeming cluttered and untidy while ensuring your customers can see everything you have out on display.
Nowadays, a large number of retailers and exhibitors use gridwall as it opens up many more merchandising opportunities which can consequently increase sales and brand awareness.