Event flags and banners buying guide
If you are looking to make a big impact and attract attention, then event flags are great POS accessories. Flags can be used in many ways for many reasons, with the key result being a boost in your advertising.
Promotional flags can be used outside of your event to let people know what is happening and where. They can also be used indoors at conferences to highlight your stand or display.
Outdoor event flags are a cost effective, reusable tool for creating brand awareness and catching the attention of the passing trade.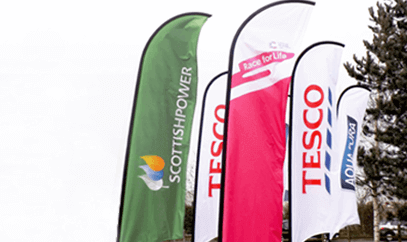 Attract attention with a feather or teardrop flag.
What style of base do the feather and teardrop flags come with?
We offer three different bases to suit a variety of different grounds and environments.
Water base – Ideal for both indoor and outdoor events. A water filled based provides a heavier stable base that can easily be emptied at the end of use. This style of base can be used both indoors and outdoors. If you prefer, the base can also be filled with sand.
Ground stake - This style of base is designed for outdoor use and fits directly into your ground. A ground stake or spike is suitable for use on grass, sand or other soft ground. A quick and simple option if you need to put your flags up on a daily basis.
Car foot - Designed to be placed under an object, such as a car tyre, to create a secure and stable promotional flag display. Ideal for use on forecourts, outside showrooms or outside events when placed under a heavy object.
Are advertising flags printed on both sides?
Our flags are printed on one side with your chosen artwork, however your design is mirrored onto the other side of the flag. This provides a fantastic double sided teardrop flag or feather flag for outside your business or event.
Can event flags be used indoors and outdoors?
Yes, both feather flags and teardrop flags are suitable for indoor and outdoor use. Depending on the nature of your event and your location, the style of base you choose will be more suited for in or outdoor use.
The flags look equally as great at an entrance or on a forecourt as they do at an indoor retail event or next to your exhibition stand.
Are promotional flags weather resistant?
Yes, to a certain extent. Our event flags can withstand winds of up to 18mph so should be brought inside on particularly bad weather days to ensure no damage is caused.
The printed banner will withstand wind, rain and won't fade in harsh sun light.
What businesses can benefit from outdoor event flags?
Any business that wants to help boost its footfall can benefit from a flag. Whether you are opening a new store, hosting an event or launching a new car range, they will attract the passing trade and let people know who, what and where you are.