Jewellery Display Stands
Jewellery, such as rings, necklaces, bracelets and earrings can be particularly challenging for retailers to display attractively without the right point of sale display products. Our specially designed jewellery displays make merchandising and selling jewellery much easier and more effective.
Our products are made from high quality acrylic and other premium materials which show off expensive and aspirational products brilliantly, and don't distract the customer from looking at your range.
With products including conical ring holders, angled earring display stands, and acrylic display cubes, we are bound to have a point of sale display solution for your jewellery business.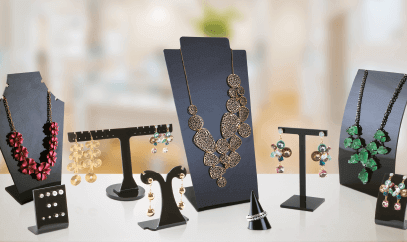 Essential point of sale displays for jewellers
From acrylic display stands to dedicated ring holders, see our guide to perfect point of sale displays for jewellers.