Whiteboards
Can I use whiteboards at my point of sale?
Using a whiteboard is a popular way to communicate information in schools, colleges and boardrooms, however they are also handy to use at a point of sale.
Salespersons can use them to demonstrate products, draw an impromptu eye catching sign, or update them with changing information such as average expected wait times in a queue.
What types of accessories do you have?
We supply an essentials pack featuring dry wipes, cleaning spray, an eraser, and three pens in red, blue and black. This is a great option for those who are buying their first whiteboard, as it contains all the essentials you need to get started in any environment.
We also supply pens and magnets separately if you need to top up your supplies, as well as magic whiteboard sheets which can create an instant wipe clean display whenever required.
How do I install my chosen whiteboard?
You can choose from a freestanding whiteboard with a stand or with a wheeled base, which means that you can place them in the area that you wish without having to fix them to the floor.
We do however have a wall whiteboard that would be perfect for use in smaller places where it is important to maximise the use of space. The wall whiteboard can be mounted to your walls using screws by using the concealed fixing holes pre-drilled into each corner.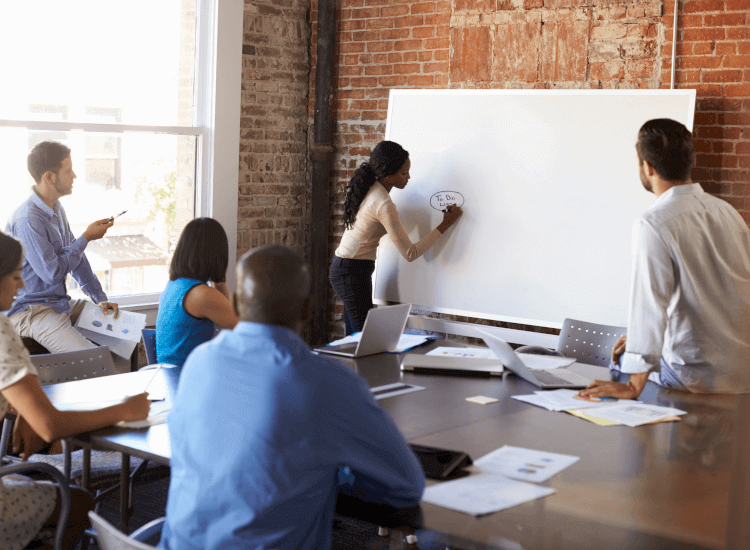 Can I attach a flip chart to my wipe board?
When you buy a whiteboard, a paper pad is not supplied as standard unless stated. However, while not all of our boards are flip chart compatible, we do sell flip chart easels which are dual purpose.
You can easily clip flipchart paper pads to these easels for writing on or for showing presentations. Just as easily, however, you can remove the flip chart pad and write directly onto the whiteboard, or attach notices using magnets.
Can I use any of them as a magnetic notice board?
Yes, all of our dry wipe whiteboards are magnetic, meaning you can easily attach notices using magnets whenever required. If you need to write on the magnetic dry wipe board, simply remove the magnets and notices.