Display hooks and accessories buying guide
Merchandising hooks are a great way to organise your wall displays and smaller products whilst freeing up vital counter top or floor space.
They can be used on slatwall, gridwall or pegboards and finished with hang tabs to clearly display your prices or promotion.
Displaying your smaller items professionally on a merchandising hook display can help increase your AOV by creating a simple and enjoyable browsing experience.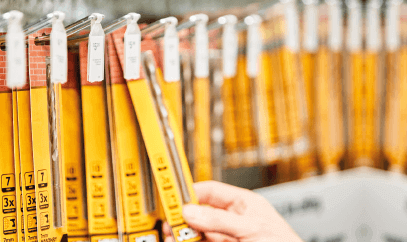 Utilise your wall space with merchandising display hooks.
Display hooks and accessories
From:

£0.19

£0.09

ex. VAT

From:

£0.15

£0.11

ex. VAT
Slatwall hooks
Make the most of your slatwall by turning it into an attractive visual merchandising display. Slatwall hooks are ideal for a variety of products and provide a simple and quick display solution which is fully reconfigurable whenever required.
Slatwall hooks can be installed in seconds, as they simply slot into the grooves of your wall. Available in a variety of lengths and styles, there will be a hook perfect for your hanging product.
Gridwall accessories
Gridwall mesh is fully customisable and can be fitted with various accessories to suit your store. You can add shoe shelves, hat stand arms and even shelves that are designed specifically to display shirts.
Hang tabs
If you have smaller lightweight items that would look great displayed on a hook, adding an adhesive hang tab to the product is quick solution.
Hang tabs can be used on single or double hooks and are perfect for small stationary items, confectionery products or accessories.
Swing tags and label holders
Displaying your prices, offers or product name at the forefront of your hook display is vital. Adding a swing tag or label holder will help attract customers to your product and create a stress free shopping experience.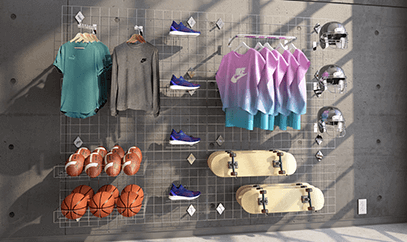 Gridwall buying guide
See our gridwall buying guide for more information on merchandising displays.
Garment rail accessories
We supply garment rails that are specially designed to be compatible with either gridwall displays or slatwall panels. These clothing rails simply slot into the slatwall and gridwall the same way that merchandising hooks do, giving you a neat display with a professional appearance.
For larger garment rails displaying clothing, it is important that each rail is clearly marked. There are a variety of accessories to do the job, such as poster holders that slide on, grip or sit on top of your rail.
The benefits of adding a larger rail accessory is that it can be angled towards the flow of customers entering your store to help attract them to your rail. The slide on holders are also perfect for dividing sizes or brands on a sale rack.