Custom printed chalkboards buying guide
With over 28 years' experience creating high end bespoke display solutions for a range of industries, we are the first choice for many when it comes to bespoke chalkboard displays.
Our research, development and design teams will work with you every step of the way to ensure we create the right custom chalkboard for your brand and budget.
Our Manchester based product centre is home to our CNC routers and branding and printing facilities, meaning we boast lower prices with a quick turnaround.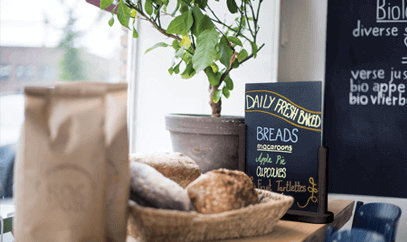 Create a bespoke, custom printed chalkboard.
Custom printed chalkboards
What are your chalkboards made of?
We can manufacture your bespoke chalkboards in a variety of materials to suit your display needs. Choose from:
HPL - High pressure laminate is a more premium choice. It offers a very durable and smooth surface which can be used with both liquid chalk pens and traditional chalk sticks. HPL can be updated over and over again without the surface becoming worn and boasts an easy clean surface.
Coated MDF - This is a really smooth finished board making it better suited to liquid chalk pens than chalk sticks. This is a long wearing surface that will last for many years.
MDF - Our moisture resistant MDF is painted three to four times using high quality blackboard paint to ensure colour density and durability. The leaves a surface which can be used indoors or outdoors, with liquid chalk pens or chalk sticks and can be easily cleaned.
Polypropylene - The thinnest chalkboard material, making it ideal for inserts in frames. Boasts a shiny surface that is ideal for use with liquid chalk pens.
What type of printed branding do you offer for chalkboards?
As we manufacture all of our bespoke boards in-house using our CNC machine, our highly skilled conceptual designers can work with you to create almost any design you wish. Each chalkboard has a designated header area where we print your logo, brand name or design of your choosing onto. Some of our chalkboards also double up as poster holders, which we can also print for you.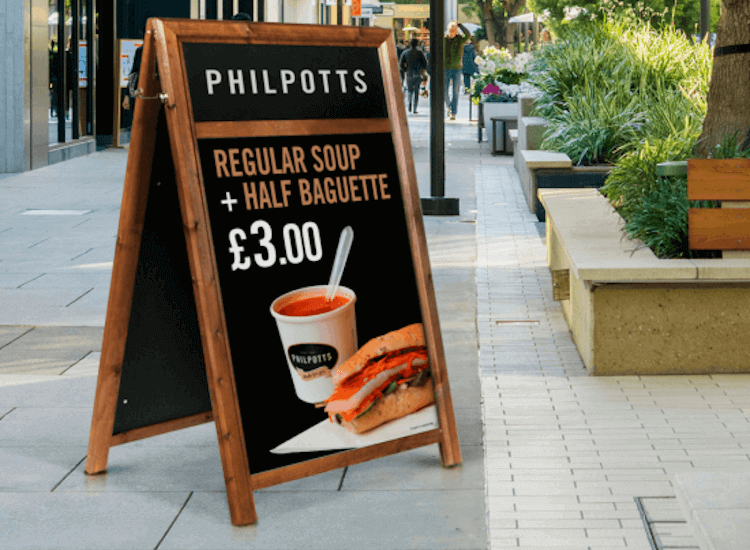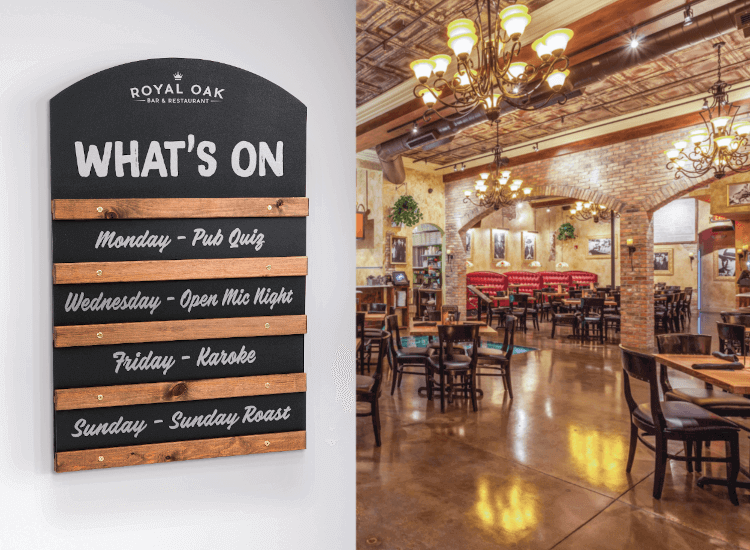 How can I get my chalkboard branded?
We can print directly onto your chalkboard in your chosen colour and style. Depending on the product, we can also use vinyls where possible.
We are not able to print onto all of our chalkboard products; please look out for the option to add custom artwork or branding while browsing our chalkboard products.
For further information on our branding capabilities, call our team today or read our simple guide.
What is the best way to update and clean a chalkboard?
An abrasive cleaner or cloth should never be used on any chalkboard surface. For best results, we recommend using our specially designed chalkboard cleaner with a damp cloth or a mild detergent and a damp cloth.
Why should I choose UK POS?
We pride ourselves on our expertise and passion, which is why we always deliver a five star service. By choosing to work directly with the manufacturer, you will save yourself time, money and effort, as the supply chain is shortened.
We will also provide you with direct contact to our research and design team so you can work in tandem to bring your ideas to life. If necessary, we can also provide a prototype service to ensure you are happy with every aspect of your product.