Countertop display stands buying guide
Countertop display stands are a versatile display solution that can be used by any business to maximise the visibility and aesthetic of your product or service.
From the popular leaflet holder and display bridges to the more niche jewellery stands and shoe displays, every area is covered.
Available in a variety of materials, colours, sizes and styles, we have put together a simple guide to utilising your countertop stands.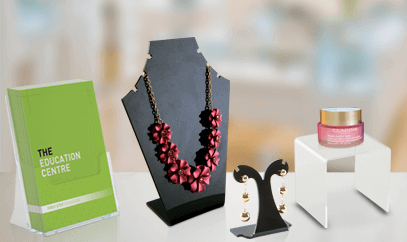 There is a counter top stand fit for every purpose.
Leaflet holders
A leaflet holder can be beneficial to almost any industry or business as it will help maximise the visibility of your literature, encourage customer interaction and will tidy up your countertops.
If you have a variety of leaflets, a tiered dispenser can be a great solution to a messy table or work top. Creating a neat and organised space will also leave a good impression with your visitors.
Display bridges and cubes
If you have smaller products to display on a shelf or countertop, adding height can be a simple way to help attract attention and create a more interesting dynamic display. Bridges and pedestals are ideal for cosmetics, toiletries, ornaments and other small light weight items.
To really stand out, both in store or in your window, an acrylic cube can be used in a creative manner. Use colourful products to fill the cubes for displays which stand out. They can also be used to boost impulse buys around your store on tills.
Jewellery displays
Displaying jewellery correctly is vital, as the right presentation can help with conversion and AOV. Jewellery specific display stands can be used on any surface in your store as well as your window displays.
Choose from necklace, earring, bracelet, ring and bangle display stands to truly showcase your range.
Shoe and book display stands
Displays for specific items, such as shoes, books and plates, are designed to showcase your product at their best angle to help boost your sales. They can be used on any counter, shelf or window display to either show your whole range or your one product of the week.
They can also be used in the hospitality sector for interesting displays around your pub or bar.
Merchandising accessories
For versatile displays, our merchandising collection has a good selection of countertop stands that can be used to display almost any items. Many of the products are manufactured from acrylic, which provides a premium crystal clear display accessory that will look great in any industry.
From tiered display stands, acrylic trays, hook displays, block displays and product glorifiers, we have covered all bases. We can also manufacture a visual merchandising countertop stand to your desired specification for your perfect display.