Luxury Menu Covers and Holders
Luxury menu covers, LED high end menu covers and power bank menu holders
Why do I need luxury menu covers?
Luxury menu covers and holders can add to the overall high quality appearance and atmosphere within bars, cafes or restaurants. Here at UK POS, we stock a wide range of luxurious hospitality accessories, including power bank menu holders, faux leather menu covers and LED menu holders.
Do you sell matching sets of menu and wine list covers?
Our Contemporary Faux Leather Covers range provides you with the option to match your menu covers, wine lists and bill presenters for a consistent, professional appearance.
These matching high end menu covers feature beige stitching which looks fantastic against the contrasting black faux leather, as well as embossed images and writing on the front.
Which high end menu covers are suitable for my business?
LED menu holders and illuminated restaurant menus are perfect for use in low lit businesses, such as bars, nightclubs and posh restaurants. They help your menus to stand out from a distance and provide a soft glow which is appealing to look at. Faux leather luxury menu covers are ideal for use in upscale restaurants, as they have a premium, modern feel which reflects your business.
Cafes can benefit from using power bank menu holders, as they encourage customers to stay on the premises for longer, looking at your menus and hopefully making another purchase.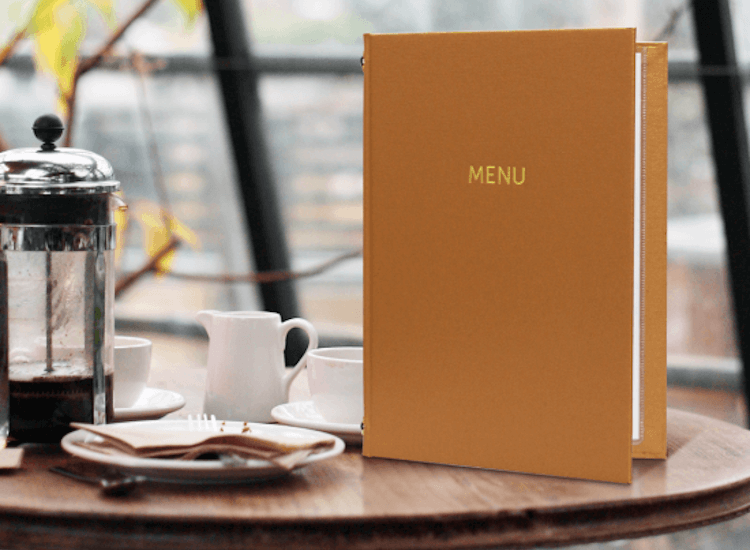 How do LED menu holders work?
Our LED menu holders work just like any other menu holder, featuring pockets to slide your menus in and out of when you wish. The only thing that sets them apart is the luxurious soft glow that they emit to customers, thanks to the LED back lights which sit behind your menu.
Please note that you will need to print your menus onto transparent inserts, such as Duratrans, instead of paper when using LED illuminated menus. LED menu holders do need to be recharged regularly and each come with charging cables provided.
Do you provide multiple charging stations for your power bank and LED menu holders?
Yes, our LED menu holders can be charged with our USB Charging Station For LED Menu Covers, while our power bank menu holders can be charged using the Menu Holder Power Bank Docking Station.