Promotional Counters

Promotional counters for retailers and exhibitions
What are promotional counters?
Promotional counters are used by retailers and exhibitions to display products and/or information to customers. They are designed to have a sales representative standing behind them to talk to customers, with space under the counter for your business to store promotional material and samples of your products. The counters usually have branded headers and front panels for advertising.
When should I use pop up counters?
Pop up counters are great for when your business wants to attract new customers, demonstrate product use or highlight an offer by handing out free samples, discount vouchers or information. Supermarkets and cafes often use pop up counters to encourage customers to sample a new food or drink product. Promotional counters are also popular at trade shows and exhibitions, where they provide a space for people to make a purchase or find out more information.
Our pop up stands are printed with your bespoke branding so that potential customers remember your business. They're also supplied with a handy carry bag, making them ideal for taking to exhibitions and open days as well as for everyday promoting.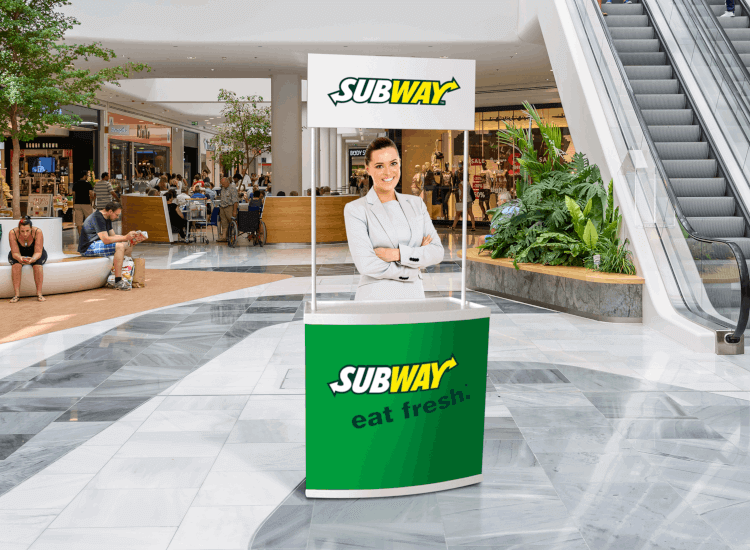 Use a pop up counter stand at exhibitions, open days and instore to attract new clientele.
Is there a bigger stand I can use?
To display larger quantities of products, you may wish to check out our merchandise displays, which has a wide range of different portable product display options, including floor standing gridwall kits.
You could opt to use these alongside your counters in order to display a variety of products, with a representative taking payments and offering information from behind an exhibition counter.