Event Flags and Advertising Flags
FG3

Despatched in 7-10 days
Event Flags and Advertising Flags
What are event flags and advertising flags?
Event flags and advertising flags are freestanding promotional flags that can be used indoors or outdoors to attract attention to your brand. They're available in a range of styles and heights to allow them to be seen from a distance or at closer range.
Can you create custom flags?
Yes, as well as a range of standard sail flags and feather flags we can also print custom flags bearing your own artwork. After you've ordered, you'll be able to download one of our event flag templates to which you can add your artwork for us to print. We'll deliver your custom-printed flags a few days later.
Where can I place my promotional flags?
Promotional flags can be used both indoors and outdoors and are available with a number of different base fittings to suit the environment in which you want to use them. Just ensure that wherever you place your event flags complies with any relevant health and safety regulations.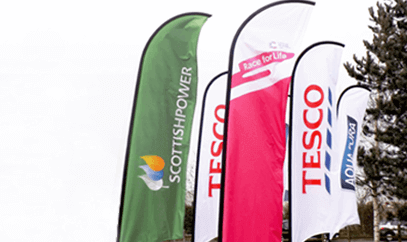 Event flags buying guide
Event flags are a great way to increase brand awareness.
What flag bases are available?
The water fillable base is the most popular style and can be filled with water or fine sand to give it a sturdy footing. In areas where there is soft grass you can use a spike base, while the drive-on base is a popular choice on garage forecourts.